Lunch anyone?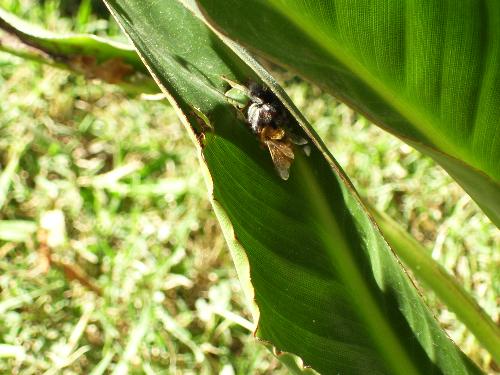 United States
November 13, 2008 3:55pm CST
I couldn't believe I was able to capture this shot. I only have a Kodak Easy Share C533 camera, but apparently it did ok this time. I happened to walk over to my bird of paradise plant one day, and lo and behold here is this decent sized fuzzy black spider sitting on the leaf with a HONEY BEE in it's mouth! The bee was almost bigger than the spider. I had to run into the house to get my camera, and I honestly thought I would have missed the shot, but Mr. Spider didn't move an inch. I've never actually seen anything like this up close and in person. Have any of you come across anything like this...and maybe captured it on film?
4 responses



• United States
25 Nov 08
I have seen such things but I have never even attempted to catch it on film. Kudos to you, this shot is definitely great and is also definitely rare. Kodak Easy Share cameras are pretty good cameras though and it shows in the quality of the photo that you took with it. Have a great day.

• United States
14 Nov 08
That is quite a shot! I wonder if the spider gets stung by the bee when it eats the bee. Kind of sad in a way since all I'm hearing about in the animal world these days is that the honey bees are disappearing. But that is quite a one in a million shot!

• Defiance, Ohio
14 Nov 08
Here I thought when you asked about lunch you were asking what I had for lunch. If I had known it would of been about a spider. I really don't think I would of walked in to your discussion. But since I did. I had to respond. Lol..hey, thats me. Yes, I have seen things like this close before. I always watched a show called the animal planet when I had cable. They show some amazing videos and shows like this in real detail.