This is my Gomez Peer account display board.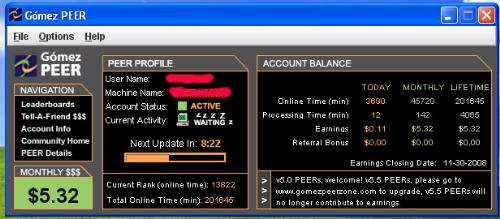 India
November 13, 2008 6:05pm CST
My gomez peer account has hit the minimum payout figure. The minimum payout figure is $5. My account balance in Gomez peer has crossed the payout mark. I have already started another discussion on the same subject. I wanted to attach my gomez peer account display baord with the discussion. I have mentioned in my previous discussion that... "I have attached the display board." But when my discussion was submitted, out of great despair, I saw that my post had been submitted minus the picture I added! I think myLot has still some bugs, otherwise, why my picture was not added, though, when I submitted that discussion, it was showing up under the compose window? I wanted to show the display board because, some people still do not believe that gomez peer never activates any account and never pay to anybody. Now all your doubts will be gone.
1 response

• India
14 Nov 08
god knows, they still havent accepted me, past 2 months... GOD SAVE THE QUEEN