Have you tried scuba diving?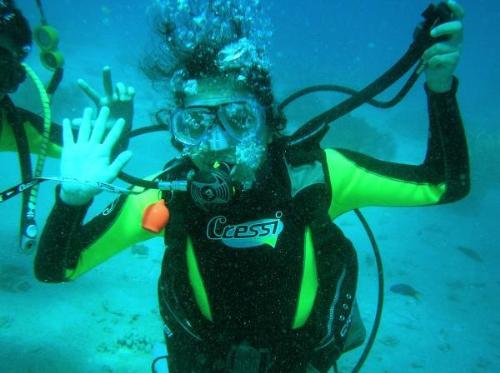 Philippines
November 15, 2008 7:52pm CST
Me and my classmates tried scuba diving last August 08, 2008 at Duka Bay, Misamis Oriental for our open water license. It is really a great experience. I want to try scuba to some other places. Have you tried scuba diving? and if yes, what are the animals you've seen?
5 responses

• United States
16 Nov 08
No, I have never scuba dived but I want to.


• China
17 Nov 08
Hello keir. I have never tried scuba diving because I cannot swim, let alone diving. But I think that it must be fun and cool to have scuba diving in the sea. You must have enjoyed yourself a lot together with your classmates. Have fun, friend.


• China
18 Nov 08
Oh, really? It is interesting. I would like to have a try if possible. Good day, friend.

• United States
16 Nov 08
i have never been scuba diving in my life but that is one of the top things i want to do in my life. ive always wanted to because i see it on tv like animal planet and discovery channel and it just looks really cool. i want to go places where the waters clear because where i live the beach isnt really that clear. looks really fun and i hope to do it many times in the future.

• Philippines
16 Nov 08
It is really a great experience. You should try it and for sure there would be no regrets. You will have the chance to see fishes up close. And some of them will follow you as you swim and it feels great. If you do scuba diving, do it in seas with clear waters. I hope I can hear some words from you when you tried it.

• United States
18 Nov 08
i've never went scuba diving before it looks like soo much fun. i live in trinidad and tobago and i wanted to go tobago to see the buccoo reef but i just haven't got the time to plan the trip. ur so lucky. i'll go someday.

• Philippines
18 Nov 08
I am from the Philippines and your place is very far from mine but if I have the chance to visit the buccoo reef then that would be a very great opportunity for me. Reefs here are also nice but someday I will try some other places with nice reefs too.

• United States
22 Jun 09
I went diving in May to central Florida. While we were down there we went to Devils Den, Ginnie Springs, Crystal River and Sante Fe River. We saw numerous turtles, a baby alligator and an eel.