How do you enjoy life? Can joining eating contest be one way to enjoy life?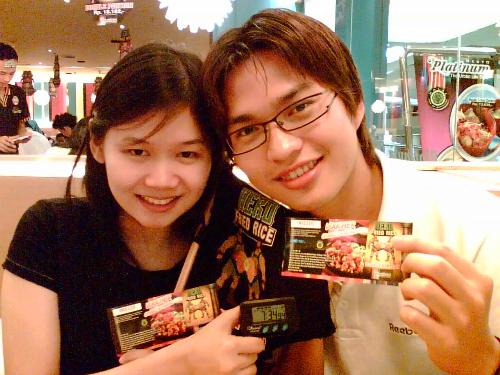 Indonesia
November 16, 2008 10:21am CST
Last week me and my best friend join an eating contest in our fave restaurant. The rule is simple, each person have to eat 2 portion of fried rice in less than 15 minutes. It's a really big portion. But we win!!! You can see in the picture there's the timer how fast we did it. This is one of the ways how I enjoy my life, besides hangin out with my best friend, joining an eating contest, and winning it! It's a simple way but I really enjoy it. Have you ever done similar things? I wonder what's your experience friends...
2 responses

• United States
16 Nov 08
I could never join an eating contest, I have a very small appetite and I would probably stop eating before I finished half of the first portion! But I think it is very important to do things that are fun, even if you don't win. Congratulations on the contest!


• United States
16 Nov 08
Well, that sounds like fun. I probably wouldn't do it, as I would probably make myself sick! *LOL* But, if you enjoy it, then it is all good! :) So, that could be a good way to enjoy life if you are able to participate. :)