Working at home is fun with earning, is not it?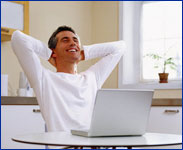 Bangladesh
November 19, 2008 10:59am CST
How it is working at home? It is nice really. If you can work at home, it is productive , fun, enjoyable, working better but with less pressure. I do think like this. Recent years we are working for others or for other institution sitting at our home. When you do not face your boss, it is less pressure and less tiresome for you which increase your productivity and you enjoy the job. Improved technology , and internet and computer technology is giving us the scope for that. How much we are utilizing this? Can we utilize it more for out productivity and working efficiency?
2 responses

• Philippines
19 Nov 08
Exactly working at home is less pressure no boss that looking at you asking for anything to do or saying like this and that etc.. Home is my base of all my doings and it is my work home. Now that we have computer and connected to internet I used to find work here that gives me income until I saw mylot. And now doing this bring lots fun of me and at the same time I earned.

• Romania
19 Nov 08
i`m sure but i`m bot so lucky. My program was from 10 am to 7 pm and all this time i had to spend on my chair in front of my comp for wich i have serious trouble with my back now. If i were so lucky as u , things will be different now. Because is really nice to work from home.First off al, u are more efficient ( and i felt that when i had to work in one weekend from my home - i did much more work than couldn`t done in one week at work), you are not disturbed by boss and colleagues, u can eat what u want when u want, u can also stay in any possition u like when u feel tired.