Give me your opinion on my picture.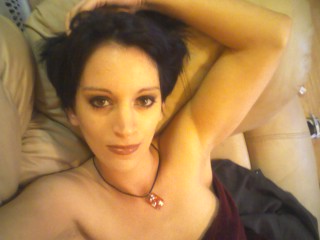 United States
7 responses

• Philippines
16 Dec 08
Wow! You look like a sexier version of Amy Lee. I saw her somewhere on tv and she's kind of chubby but you're Amy Lee dignified. Of course you got your own identity and i will not take it away from you because you're good in your own right. Your eyes are killers! I would love to save your pic but i'd be in trouble when somebody see it here on my computer...


• United States
16 Dec 08
LOL. thats nice of you to say. I dont know if im really "that" good looking but ... thanks. and you probablly shouldnt save it, your wife might kill you. lol

• United States
16 Dec 08
oh hehe, your sis would probablly kick you.


• United States
26 Nov 08
Hey hey ! I think you do look a bit like her too . You are a very pretty young lady . I used to always be trying new things with my hair , now I am back to my natural almost black color . I think dark hair is really nice and kinda mysterious . I think it looks nice and you should keep it if you like it . it is good to mix it up from time to time


• China
21 Nov 08
not bad....although i do not know who is Amy lee, but your picture look nice.

• United States
21 Nov 08
she's th singer of a band evanescence. i would have posted a picture of her but it wouldnt let me put two pictures up


• United States
21 Nov 08
Thank you . im blushing now. but no. i live in florida.


• United States
20 Nov 08
ok. but you didnt really answer the post question.


• United States
20 Nov 08
haha. well, i sing to my kids but my voice is nothing compared to her. She is a rock goddess, im just a mom. I like the way i look. and i like the way she looks. thanks