7FT 12 year old boy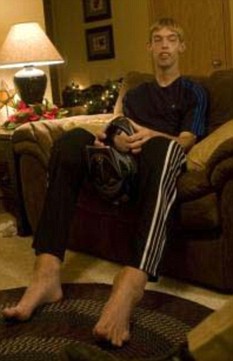 United States
November 20, 2008 4:37pm CST
Did anyone see the episode of Oprah, where she had a 12 year old boy who was over 7 ft tall. See the picture below. He just wouldn't stop growing, and was injected with testerone to stop his growth. He has a size 18 shoe, and everything in their house had to be redone to accommodate him. Did anyone see this?
2 responses

• United States
21 Nov 08
yes, i did see that. i thought what shaq was going to fr him was wonderful. that should boost his moral.

• United States
20 Nov 08
No I didnt see this but it is possible. I have an 11 yr old sister that is 5'9'' and not done growing yet and in a size 13 shoe...So she kind of in same situation but I dont think she'll get to 7 feet tho. Thats a pretty tall kid...Hopefully he can stop growing or he'll be worlds largest tallest boy! We'll have 2 check this episode out though.

• United States
21 Nov 08
Your sister is quite tall for eleven. I suppose it is hard for your mother to find shoes for her that are not too grown up looking.