This was me last Christmas!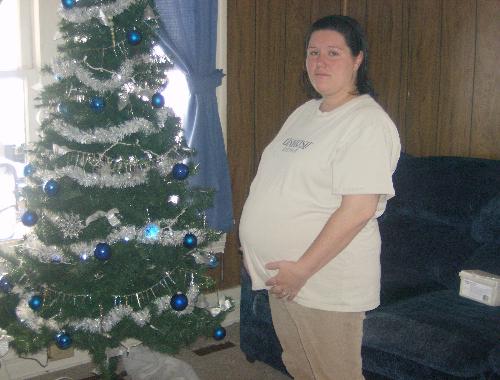 United States
November 21, 2008 8:55pm CST
I just came across this photo while searching for one to put on another discussion. I think it's hillarious how I looked last year. It's not a good looking picture, I wouldn't even smile... but hey, what do you expect from someone almost 9 months pregnant?My son was born in the middle of January, and sometimes I forget this is his first Christmas. This has been a very long year! I remembered this morning because I have to buy a new stocking for my son, he doesn't have one yet. We all have matching stockings with our names on them. We'll have to put up a new nail for his stocking too... that just dawned on me. I hope there's room!Do you have a child celebrating their first Christmas? Were you pregnant last Christmas?
5 responses

• United States
22 Nov 08
It's been a long time since I was pregnant at Christmas - like 38 years! My daughter was born on Dec 28th although we thought she might accidentally come on Christmas Day. But she came on her due date, although the DR said it would be after the first of the year. I fooled him! Our son's wife just gave birth in July to their 2nd child. So he's 4 months old, 5 by Christmas. He won't know what's going on. But I remember my son's first Christmas. He was born May 9th, and he was crawling. He got under the tree and opened my presents.

He thought they were his, I guess. It was funny. Your child should be doing that this year.


• United States
22 Nov 08
My first was also born in May, although his first Christmas was nothing spectacular. The twins were born in November, they were barely a month old on Christmas. For the life of me I can't even remember that year! Wonder why. My toddler was born in June. I remember helping him open his gifts. Last year was more fun for him, I have a video of him opening his first gift. He's just sitting there holding it, and hubby reached over to open it. He freaked out and tried to close the wrapping again until hubby pulled it off and showed him the Elmo underneath.

• United States
22 Nov 08
Isn't it fun to see the little ones open their gifts! I can remember one of my grandkids having the same reaction over a gift when they were young, too. They wanted to open it, didn't know how, but didn't want help, either. It's funny. And, when they get a little older, they open the SO fast, you can hardly see the reaction on their faces when there are lots in the room. We all sit on the floor and chairs in the LR and someone gives them out. We try to get one at a time to open a gift so we can take pictures, but they get tired of waiting, and you see paper just flying! And you wonder, did they really like what I got them? We always get a thank you for the gifts, but I love to see them open them and see their eyes light up when they get what they wanted. This year, it might not be that happy.


• United States
22 Nov 08
We have always taken turns, and it's difficult with a baby because they are so slow about it, and the other kids are just sitting there like, come on, I want to get to my presents, geez! But we make sure they do it one at a time, and they've learned to be patient.. at least for a little while. I'll usually have to tell them a few times to just sit and watch their sibling open a gift, because they like to go grab their next one and just hold it while someone else is opening one.

• United States
22 Nov 08
You look a lot different, Wow. Yup I was pregnant last Christmas but only 2 months. I was so sick from morning sickness I could barely enjoy the day. Thanks for the reminder about the stocking. I haven't gotten one for my 4 month old yet.

• United States
22 Nov 08
I would have remembered once I dragged our decorations out, but I was reminded when I was shopping yesterday and saw some. I think I've had to buy new stockings every year. One year I forgot to put them away so some of them got ruined. Then you know I keep adding kids to the family. One year when I went to buy a new stocking, the kind we usually got were gone, so I had to buy all new. I hope I don't have to do that again this year.

• United States
23 Nov 08
We just add to the list as we add family members. We don't all have the same ones so we don't have to worry about buying all new.


• United States
24 Nov 08
I've been pregnant for 3 Christmases. My twins were born in November, so I was not pregnnt for Christmas with them. With my oldest and my toddler I was only a bit pregnant, not too far along. They were born in May and June.

•
22 Nov 08
I cannot see the photo yet as I talk to you now because I am coming at you through my emails but I will check it out after! I love a babys first christmas it is just so special, I think it is lovely that you all have stockings, I used to get a sock filled up as a child and I loved it. I had never given mine a stocking but this year I have bought them all a stocking each that I am going to fill up and put on their beds for when they wake up!

• United States
22 Nov 08
We leave ours at the table at their seat, wherever they have their breakfast. The first thing they do is play with the stocking, then once mom and dad have woken up a bit we start to open presents.


• United States
22 Nov 08
I've got 5 kids to spoil! The baby will probably not get a whole lot, he's still young and doesn't need much, and has all his brother's toys to play with. It's the older kids that matter most, so far they have a lot of good things.