When was the last time someone literally cried on your shoulder?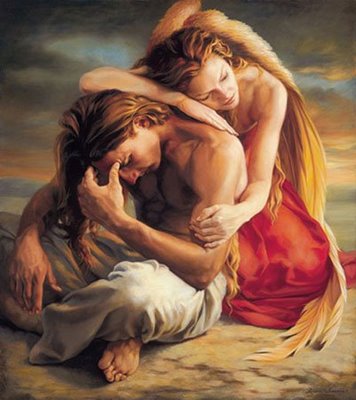 Philippines
November 23, 2008 7:10am CST
My friends father passed away last November 21, 2008. A few friends and I went to pay our respects and extend our condolences last night since the funeral was 1PM this afternoon. My friend was doing okay then she was asked to come to the next room (where the casket was) for a prayer activity only for the immediate family. When she came back to our table, she was holding back tears. When she came up to us, she hugged me and literally cried on my shoulder. I really didnt know what to say (none of us did) so I just hugged her and tried to soothe her by rubbing her back. She was okay again after a few minutes and actually tried to joke about the "awkward moment" trying to explain that she was still in denial.. When was the last time someone cried on your shoulder? Or maybe you were the one who cried on your friends shoulder? If you were me, would you have said something whilst comforting your friend? What would you have said? Thanks for your responses..
3 responses

• India
26 Nov 08
This have just brought tears in my eyes! I went back to the time when my grandma left us. It was three years back. She was such a beautiful person, we always used to get a soothing sensation within when with her. She passed away in peace with her loved ones around. It was bit unexpected though. I remember, my sister cried on my shoulders,never to get back composure. I couldn't cry, I had to hold back. Or else she might lose complete control. It was terrible! The tears dry but the pains, the feeling of loss always stay with us. That's is but life. we live on the beautiful moments we spent together. My prayers for your friend's father. May he rest in peace. Take care of your friend. She needs you the most this time. Blessed be.

• Philippines
23 Nov 08
I do not remember when someone cried on my shoulder. It may have never happened to me at all. Is that a terrible thing? Maybe I'm not supportive enough? Cheers!!

• Philippines
23 Nov 08
It was three years ago when someone cried on my shoulder. That was when my best friend since we were 5 years old left for abroad. We had been friends for more than 23 years and it was the first that we will be far away from each other. I really didn't like goodbyes and it was one of the saddest moments of my life. I actually didn't expect her to cry on my shoulder because I thought she was ready to leave and already was decided to do so. She told me to take care of myself always and email or text whenever I need her. It was a very emotional moment for the two of us.


• Philippines
23 Nov 08
Hey iamcdy, Its nice to have a friend like that. I take it that you two are still in constant touch with each other. Maybe come over each other's houses on a vacation for a visit? Goodbye's are always hard especially when people really dont want to say goodbye, at least not yet anyways. Well, thanks for sharing and do take care.