when did you start giving your baby/babies solid food?

Philippines
November 24, 2008 12:57am CST
my child is two years old already. my wife started giving our child food when he was three months old. starting from very light and easy to chew. mashed banana, mashed potatoes. other mothers started to feed their children with food at the 6th month. some say that is too late already. so when did you feed your children solid foods. this discussion can help first time parents as well.
7 responses

• United States
24 Nov 08
Id say use your own judgement if a child wants it you will know. I have already started feeding my little girl and she just turned two months old and well she loves it.


• United States
26 Nov 08
Well she eats stage one baby foods right now and only after her bottle if shes still hungry so mabey once or twice a day. She is formula fed and only eats small amounts of food but she is eagerly wanting more already. You almost had the spelling right just no H and thank you i like to think she is very pretty.

• United States
26 Nov 08
I agree. My little boy is 3 months and he loves food. Everytime I take him to the doctor, she keeps saying "We'll talk about solids next time". Well, one night he started crying, he didn't want his bottle, he didn't want rocked, he didn't want to play, he didn't want, he didn't want anything. I even tried a bath! Well, my mom gave him some mashed bananas. That was what was wrong with him, he was hungry and the bottle wasn't filling him up at all. That's how my little monkey let me know he was ready for baby food at I'd say 2 months. Just use your own judgement.


• Germany
24 Nov 08
my little girl i gave her solid food when she was 4 monhts old.i dont think so if it is late some said too early because in thats case supposed to be only milk.

• Philippines
25 Nov 08
what is the first food you gave? is it ready made or you did it yourself. we Filipinos or as i can say most of us feed our infants at 3 or 4th month. we gave our son oats with a little milk and sugar. thanks a lot for the response

• Germany
26 Nov 08
huh?did you use sugar?

i feed carrots or any vegatables with bit of meat. i did it myself and i use only during lunch and the evening in a glass but not all the time.

• Philippines
27 Nov 08
yes my wife use a liitle sugar just to taste not a lot. we bought honey but it was stated at the bottle not to feed to children below the age of one so she put sugar instead. she also gives mashed potatoes and lugaw that my wife is the one who prepares it. thanks for commenting back. have a good day ahead

• Philippines
25 Nov 08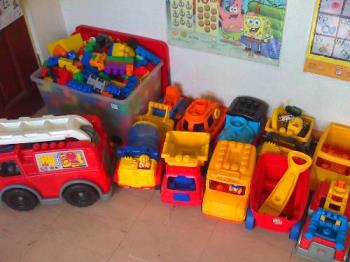 I started giving solid foods to my kids when they turn 6 months old. This is the usual age to start giving them solid foods. It is not true that it can be too late, in fact it is the optimum age to give them solid food. you may want to ask why? The answer is(as I have searched before) because the lining of the stomach of the babies are so thin that when food enters to it, they absorb it immediately and thinks of it as a harmful substance. and so when the same type of food enters again when they grow older antibodies acted out thus it became food allergies. My pedia told me that too that when we introduce solid food to babies at younger age they tend to have more allergic reaction to foods when they grow older. When the kids turns 5 too 7 months, the lining of the stomach thickens thus substance that can enter are reduced

• Philippines
27 Nov 08
maybe it is the usual of the today parents. but when my child was born i ask all of my aunts and my grandma too, and also some of the experienced mom i know... they all answered 3 or four months. that is what are pediatrician told us too. that we need to introduce solid foods to our baby at the 6th month. lucky even we started earlier than the doctor said my son is healthy, and has no allergies when it comes to food. he can even eat ampalaya at the age of 1 year old and 6 months. i think it all depends on parents instinct. but still i respect your opinion. in your info and the way of explaning it can help a lot of mom who are member of mylot. thanks a lot for the response

• United States
2 Dec 08
my daughter started about 6 months feeding her baby now the doctor was against this because it makes the baby to fat before time because the baby is not ready for table food his little stomach is not ready until about 1 year.i have know too many who started their baby at 3 months and their baby was so fat couldn,t get off the couch.

• Philippines
2 Dec 08
i didnt have a fat child, as you can see at my avatar dear. i think parents should be responsible too to watch their childrens weight. but if that is what your pediatrician told you then that is good that you follow. reading at the net has different examples and different theories. thanks a lot for the response

• Japan
26 Nov 08
Hi there se7enthbird. I have a two months old baby, Keiji, and I think we going to start to fed him when he turn 3 months old. My sister have 4 lovelly kids and I ask her anything what to do about babies. I will do what my sister told me to do about Keiji, I think its good, now i can see that her kids grown good. And for my instict too I think I would start to give him at his 3 month, not a lot but small amount of mashed potatoes and mashed banana, even a drop of fresh orange juice. Have a nice day, duh..............

• Philippines
2 Dec 08
how are you tol. it may be freezing cold there already. yes i think it is wise to feed an infant at the age of three months, but of course not a lot a little by little. and your ate knows what to do no doubt about that. hope you doin fine... keep smilling

• United Kingdom
24 Nov 08
My older son is thirteen years old and I began weening him on to solid food when he was 4 months old. Nowadays it is suggested that mothers begin weaning at 6 months old. I did that with my second son and he is now eighteen months old. He is very fussy and he eats posh baby foods that a company makes. He can eat gingerbread biscuits and fruit deserts but he won't eat fruit or vegetables. I am trying to get him to like more foods and healthy options too.

• Philippines
27 Nov 08
i think we parents needs to think of healthier options. if we have time to prepare our childrens food then that is better. ready made still have preservatives and thefresh ones are still the best. thanks a lot for the response maximax and have a great day ahead

• Philippines
24 Nov 08
Upon the advise of my baby's doctor... i started giving her solid foods when she was 6 months old... i asked why that late... and she said that studies show that kids who are fed at that age tend to have less allergic reactions to food... So we followed the doctor's advise... since we had nothing to lose but everything to gain in doing that...

• Philippines
25 Nov 08
that is what are pediatrician told us to do. but my mom and my eife's mom started to feed us slowly during the third month. not that heavy foods but light and a little amount only. so far so good. my son has no allergies. he eats ice cream but does not catch a cold or a cough. but he does not eat candies, junk food and does not drink cola. thanks a lot for the response