I want another dog but I keep trying to find a dog just like my male rott...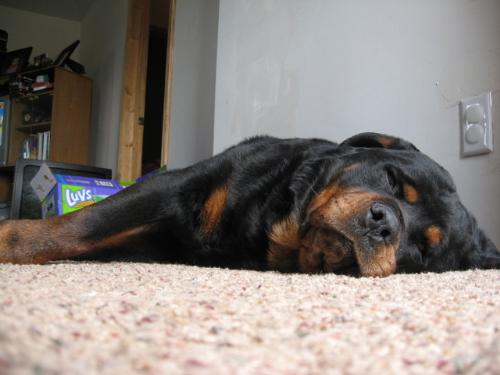 United States
November 24, 2008 4:07pm CST
Max was 11 years old in July when he had to be put down, it still breaks my heart that we couldn't afford the surgery to attempt to fix him, even if there just was a 35% chance for him to make it (and that was if he was a LOT younger). He somehow managed to twist his stomach, the vet called it the bloat. He had a long life though, longer than many rotts do. He was an AKC German Rott, he had been a breeder until this past spring when our female was killed by a van. He was a house dog 9 1/2 of his 11 years (the only time he was in the pin was when she was in heat). He was my seizure alert dog (my seizure's have been stable for 4 years now, but I still kept him with me). He was my best friend, a playmate for my 2 year old twin girls. Even w/ his mild arthritus and advanced age they could do anything to him and he wouldn't mind. He was our protector that wouldn't harm anyone unless they touched me or the girls. He was my bathroom buddy (he'd set outside the door). He was my best friend. I know it's a bit soon to get another dog, and I would like to let my daughters get a little older before I take on training a new dog, especially one w/ as much energy as a rotti pup. My problem is, I have looked into getting another dog.....but I'm always looking for a dog JUST LIKE MAX. Max was perfect, not just in my eyes, he was show dog quality except a LOT larger. How do I overcome trying to 'find Max' again, how do I actually look for another dog instead of trying to find him again?Thanks everyone!
3 responses

• Australia
24 Nov 08
Oh it is so sad when you lose a pet as i believe they are like family, I think a good way to honour him is to give another dog a good life and a good way of doing that is to go to a shelter and just let a dog win your heart...I hope you find another friend.

• United States
24 Nov 08
ty Lilaclady, my husband and I have been talking about adopting a shelter dog, actually, they have a rotti rescue around here too, but I'm wary of adopted a dog (any breed, not just rot) that is grown bc my children are so young and I'm paranoid that the dog won't be too happy w/ two toddlers around. I got lucky w/ Max loving the kids so much especially since he had been my baby for 9 years before they were born. I might see if one of the shelters around here has any puppies of any breed and adopt one. Thank you!

• United States
30 Dec 08
My best advice is to just get another dog and not look for the qualities of Max. We had 2 rotties, Taz and Storm who have both passed away - 9 1/2 and 11 1/2 respectively. We now have two dogs (from the humane society) who amazing have Taz and Storm's qualities. Weird as it sounds it's like we have them in different bodies now. It's a good thing - they both look different (Rio is red and is just like Taz and Thor is black and blond) but they are so much like Taz and Storm it's unreal. We didn't go out looking for the same, the same found us

• United States
24 Nov 08
wow max was your best friend you will never find another like him.but what you can do is go to the animal shelter the animal there recieve all there shots and they care for the animal the way it should be taken care of.