Would you like an Iguana for a pet?...

Philippines
November 26, 2008 8:07am CST
I was looking at a friend's friendster photos when this one caught my attention... and it brought memories of the days i was still working in Guantanamo Bay, Cuba... well, this place is not only well know because of it's detainees... but it is also know for its abundant number of Rock Iguana's... abundant because this creature is actually in the endangered species list... but if you are in Guantanamo Bay, Cuba... they are everywhere... They are protected by the law with a $10,000 fine if harmed... and they can even stop traffic... in case they decide to sun bathe in the middle of the road... they can be very stubborn... since not even the loudest continuous honking can make them move if they do not want to... at first glance... one might think they are ugly... but then one will soon notice the beauty and elegance of this creature as they walk the walk and give that long and unending stare... So... if by the stroke of faith you are chosen to care for one... would you accept the task... or say... I am more of a cat/dog person"... and slowly shy away...
8 responses

• Malaysia
17 Dec 08
Hi aseretdd, after reading your story I then come to know that there is a great amount of Rock Iguana in Guantanamo Bay. Yeah, I know there are still many endangered species in different places under well protection. I think having this appropriate measure can effectively protect these endangered species like Rock Iguana in the mentioned place above, panda in china, tiger in my country and etc from extinction. End of last year I had visited the nearby zoo and I found there were about ten Iguanas sitting still on the big branches of two big trees in the zoo. The ones sitting near the leaves were green in color whereas some yellow brown color ones were resting on the trunk. I don't think I would keep any of these as a pet. Firstly I don't have much knowledge how to take care of them and secondly I'm afraid that this pet would frighten my neighbors as well as my guests

Take care and

posting.

• Philippines
18 Dec 08
I am sure your neighbors will be scared because rock iguanas can grow very big and long... and they sometimes chase people... especially when they get upset... but then even if they are not as beautiful as other animals... they still deserve to be protected... because they are beautiful in their own right... Thanks for the response...

• Malaysia
18 Dec 08
I never realize that a grown up rock iguana can have such terrible long size. Definitely people would feel scared if seeing such unfamiliar and strange looking creature. Crocodile is a scary carnivore animal that under protection in my place. A decade year ago when people saw a couple of crocodile moving in one of the busy streets in my place, they yelled frighteningly and ran away from the creatures madly. Later there came the firefighters and caught the two creatures and sent them to the nearby zoo. And of course the owner had to pay for fine of illegal keeping animal that is under protection, and also to let the stray creatures roaming in the street could cause great harm to people around there. I was told that the crocodiles were kept in the basement of the house for years.

• Malaysia
29 Dec 08
Thank you for starting such nice topic for us to share our view and feeling about the lovely creature here. I believe iguana is a lucky animal to me,

for I could gain the award after writing a little about them here

Thank you very much for marking mine as the BR



• United States
11 Dec 08
I would not want a lizard of any kind. I think they are beautiful and would love to photograph them but no way would I want to take care of one. I have two dogs and two cats that is enough for me.

• United States
14 Dec 08
I think if you raise animals together they can learn to get along. I do think my cats are to old to learn to get along with an iguana now. One is 13 or 14 years old.


• India
27 Nov 08
Well honestly aseretdd,I am not much of a "pet" person.....I hate pets,even cats and dogs let alone Iguana....

...Some how I do not like touching or cuddling animals in general,and keep away from them......


• Philippines
28 Nov 08
Some people are not really into pets... i have friends that are like that... but i want to have one... like a small dog... but if i have a big yard... i will surely go for a larger breed... but for sure... i wouldn't want a Rock Iguana for a pet... they can be nasty at times... Thanks for the response...

• Philippines
2 Jan 09
I'm not into reptiles. I like furry animals. I think I'd rather take care of sloth than an Iguana haha I also like dogs and cats - I don't know which pet I like better! I think I'll just say 'no thank you' and stick with the more common domesticated pets that know how to appreciate a belly rub :D Thanks for the comment on my discussion!

• Philippines
2 Jan 09
I don't think an iguana would ever like a belly rub... but some of them love m and m's... i don't know why... but they tend to fight over some... and like you... i prefer the common domesticated pets... since they are a lot easier to take care of... Thanks for the response...


• Philippines
27 Nov 08
A lot of servicemen there would love to have one as a pet in secret... but since they can grow pretty big... no one would dare to... because they are also afraid of the $10,000 fine... i remember a Filipino lost his job and was sent home because he accidentally ran over a young Rock Iguana... no fines for him because he doesn't that kind of amount... Thanks for the response...

• United States
27 Nov 08
my area of the world's a bit too cold for iguana's. i like them,but i'd probably pass.i'd hate for it to spend most of the year hugging it's heat rock in the tank. it deserves a more tropical home.


• United States
26 Nov 08
I have a dog, so if I did have an iguana, I'd make sure my dog didn't decide to play with the iguana. I wouldn't want to have one unless maybe like you, I lived somewhere where they were abundant. I would be more likely to see the beauty of them, and appreciate them better. But I like it when someone has an "unusual" pet. To appreciate nature fully, I think it is important we open our minds to more than just the traditional animal.

• Philippines
26 Nov 08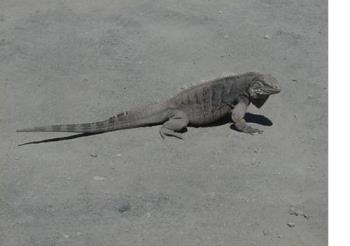 I have seen dogs run away from Rock Iguanas... especially from those that are fully grown... since they can be quite big... and a dog's bite will not even cause them any harm... but in my case... i don't think i can even take care of an Iguana... since i don't even have a dog... Thanks for the response... by the way i will post the photo here... i don't understand why it disappeared when i posted the discussion...