is sania really capable to represent india at international level....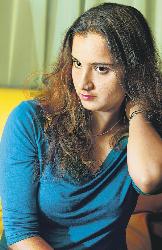 India
6 responses

• India
15 Jan 07
sania mirza is my favourite tennis player.Sania is the current youth icon in India. Coming from Hyderabad, this teenager is creating history in Indian tennis by becoming the first ever Indian to break into the top-50 WTA rankings. Still not out of her teens, Sania Mirza has got a huge fan following, both inside and outside the country. i heard Sania's ambition is to one day become one among the top-20 in the world.may god help her to full fill her ambition.At the rate in which she is going currently, that day is not far off. best of luck sania....you are amazing

• India
8 Nov 06
well.. as there is no much competitions for here.. she is still there... She could even do better but as i told she is not having much competition.. which might make her neglect all......

• India
8 Nov 06

actually in the long run she will win. As losing is the stepping stone for a bright future ahead. Hardwork pays in the long run. She works hard, hence winning and losing is all a part of a game. As she keeps working hard, surely no matter her hard work will pay not only for her, but she will make our country proud through will power & hardwork.

• India
8 Nov 06

She can play well. In fact she has one of the strongest forehands among the women out there. But she has to be consistent and reduce the fantastically large number of mistakes which she commits. Otherwise, she will indeed become a loser. But plz dont blame her for the hype. Its the Indian media which has ruined the careers of numerous such talents(mind it, Sania IS TALENTED) by elevating them to the heaven even after a small success