Will you Eat your food with your Hand or Spoon.?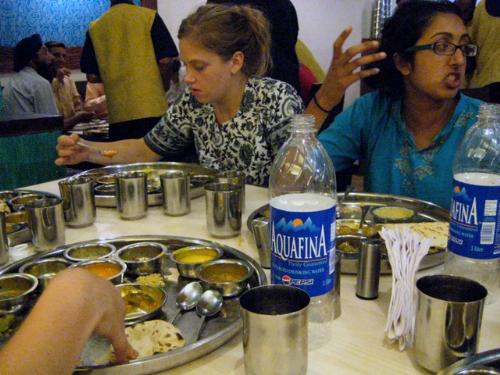 India
November 29, 2008 2:31am CST
Hello all.. Do you have a habit of eating your food with your hands, in india, most of the people used to have our food by our hand only at our home, in case of any of the party or meeting we can eat the same by using the Spoon to keep the place neet, and to accompany with others.. to maintain the status.. etc..etc.. like some explainable reasons.. And also most of our ancient people and also some of the doctors also advised the people to eat the food by using your fingers, because in the tip of your fingers, you have a digetion powers.. So, if you eat your food by your hand, this will help you to keep your food digetion properly. And some of our indian dishes cannot be eaten by using spoon, without proper experiences.. like Poori and Chappathi/parota etc is very hard to eat by using Spoon. And also I used to eat my food only by my hand, before come for eat, i used to wash my hand neatly, properly and come for eating food, and also have my food by my hand only. And all my family members will eat their foods by our hands only mostly at our home.. And moreover i used to have my lunch at my college by spoon only, if it is rice based items.. Post your experience about this.. what do you feel about having the food by hand and Spoon.. Have a good day.
5 responses

• Philippines
1 Dec 08
Yes sometimes if the food I'm eating needs to use my hands I do it. I really enjoy eating with my own hands!

• Philippines
29 Nov 08
yeap chennai...we both in common.. I am a Filipina who grew in a province..and we oftentime used our hand when eating at home. But outside our home like attending parties or conference..we really follow the etiquette using spoon and pork. At home i just feel comfortable using my hand when eating at home..special if the disher are dried.

• India
29 Nov 08
well i to have most of my food using my hand but at social gatherings i hav to use spoon for having rice coz if u dont do so people think u dont hav manners and they call u with names but the thing that amazes me is why we Indians who hav the habit of using our hand become so different at parties as if they hav never used their hands and they call it class well cant say much on that but the feeling of eating food with hands is amazing

• Malaysia
29 Nov 08
Hi Chennai, it depends on the food we are eating. We usually use fork and spoon for most of our meals. If it's Western, we will add a knife. We will use chopsticks for noodles, and sometimes Chinese or Japanese food. I only use my hands when it comes to eating fast-food like burgers and KFC.

• India
30 Nov 08
I eat the food with hand only, if I go to the party or some meeting, probably I will have the food with forks and spoons.....