I have never been to a ballet what should I expect?

Canada
November 30, 2008 3:29pm CST
We are going to see the Nutcracker Suite at 7pm next Saturday night. I am so excited. It is something I have
always
wanted to do. I am slowly going deaf and I really want to enjoy this before I can't hear anymore. I have a long evening dress that I am going to wear with some really pretty rhinestone jewelery. My husband is wearing a new suit and tie. Our daughter has a new dress as well. We are doing this for her Sweet 16 birthday which happens to be today! As well as for me too!

I am so
very excited
to go to this ballet!!

I want to make sure we will be dressed
appropriately
. Have
you
ever been to an evening ballet? What did you wear? Have
you
ever seen the Nutcracker Suite?
2 responses

• United States
2 Dec 08
Oh, you guys are going to have a lot of fun. As to being dressed appropriately, that really depends on the place and who is putting on the performance. Obviously a local small town ballet school performance will not require an elegant evening gown, lol. I have seen people in torn blue jeans there;) Ticket price is an indicator. The more expensive the better dressed you should be. If in doubt you can always call the theater to find out what people normally wear. Just tell it as it is. They'll give you an indicator what the average person will wear to an event like this. You guys have fun!

• Canada
2 Dec 08
It is in Ottawa our nations capital here in Canada. It is at the National Arts Centre and is a really big event. We spent over $200 on tickets for the 3 of us. So I would guess that means an evening gown would be a good idea.

It is going to be exciting I am sure. I have been looking on youtube to watch snipits of the ballet. I can hardly wait.


• United States
2 Dec 08
Oh, yes, definitely! Take a picture so we can see all you guys dressed up for a magical night out;)

• Canada
17 Dec 08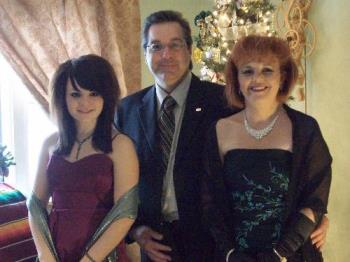 We had the greatest time!!! It was everything we had hoped for. What a spectacle. I hope that all of you get a chance to experience a ballet at least once. It was well worth it!!


• Canada
2 Dec 08
Thank you. I will let you know how it goes. I am really looking forward to it!! We bought my husband a new tie and shirt the other day as well so he would have something new to wear and not feel left out!! LOL