how durian taste??

Malaysia
6 responses

• Philippines
2 Dec 08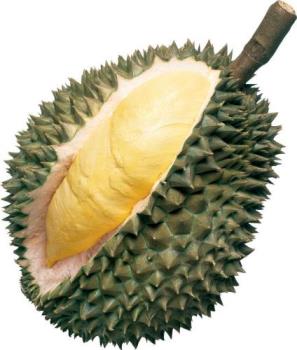 well, I think the reason why they run away its because of the smell of the durian and the shape of it when you open it already..

Durian is one of my favorite food. It is very delicious... The taste of the durian is very sweet, just like the taste of a milk.. My younger sister, my aunt and my niece also don't like to eat Durian because of the smell.. I don't know maybe they were thinking something not good with the smell of the durian but for me it smells good especially if it is very ripe.. It taste more sweet and delicious.. I just love eating durian... My family also love durian..


• Malaysia
3 Dec 08
I love durian so much that sometimes I bought in tall basket just for the family. It is sweet and creamy just the way I like. People can't stand the smell, but I do think they need to be educated before they can even eat it. I used to watch one of the fear factor episode in which of the couple turned down durian but instead willing to eat maggots hot dog. What a bummer. Durian is a fruit not creepy crawlies. Dah


• Philippines
6 Dec 08
I really dont like the smell and the taste of durian. though some really love it because its creamy minus the smell of course. but i never have the guts to eat it. But i do love the candied durians especially the pastillas. I just dont like the fresh ones. it really makes me sick because of the smell. i fell dizzy.

• Malaysia
4 Dec 08
Hi sarawakenlee,i think the main reason that your friends run away is probably of the durian smell.Not every one like the smell of the durian.But as for me,i like durian very much and i like to eat too.

• Philippines
2 Dec 08
Some people hates the smell of a durian but not me. I loved the smell of it. And taste also. Me too wondered why those people hated much the smell of durian. For me they just acted too exzag! lol but.. that's what I find them.

• Philippines
2 Dec 08

I did not like to eat durian before because I did not like the smell. But when I tasted it, I loved it and ate every time we have durian at home or every time we go to the Durian Garden here in our place. It could also be made into durian pie, ice drops, ice candy or ice cream. They're deliciously sweet and have unique taste. Good day!

• Malaysia
2 Dec 08
It is the smell that make people run away but I do not care as I love durians! My mother has a small durian orchard and when the durian season came, I would be there just waiting for the fruits to drop and then eat them on the spot. But that was then. The orchard is still there but nobody goes there anymore except for some of my cousins... Nowadays, if I am craving for durians, I have to eat it at the road side right at the place where they are sold. In fact, that is the best way to have durians as we get to choose the right one and return those that are not that good. Furthermore, my wife could not stand the smell of durian and therefore, I must have it outside the house and then I must brush my teeth or take some chewing gum to get rid of the smell before I go home... The last time I had durian was back in August where a few of use got together and bought some expensive durians by the road side and they were really fleshy and delicious... 4 of us could only take two durians... That was really great! Cheers!