Do you know the best way to make a gingerbread house?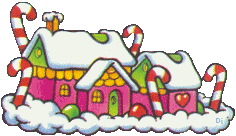 United States
2 responses

• United States
2 Dec 08
I wouldn't even try it myself. My sister is an absolute master at making them and I would just be embarrassed by my efforts, I'm sure. I have never been around when she made hers. She won't let anyone be around.... it is an art form for her and she needs her space and time to do it. I know she does very imaginative things with hers like melts hard candies of different colors to use as stain glass windows. Stunning!

• United States
2 Dec 08


It sounds like she could give the advice and tips needed. I wish she could be here to guide me through or this may come out looking mighty strange lol

• United States
2 Dec 08
First you opne the box making sure everything is there. Then you lay the pieces out on the work table. Then......

Dang I always eat the gingerbread at this point.

So I am at a loss as to the following steps. Sorry.

I have never made one in all my years actually. But I do love Gingerbread cookies.
HAPPY POSTINGS FROM GRANDPA BOB !!~

• United States
2 Dec 08


I know how to make the cookies and the little gingerbread men, or rather people , and now the new challenge is to make the house. There has to be someone here who can do this and has done this lol