Get Your Dog Vacinated

Canada
December 3, 2008 9:13pm CST
I am starting this discussion because not alot of people know of this vacine for dogs. It is for Parvo. I had a german shephard/lab retriever. He was only 6 years old when he contacted parvo. It is a horrible desease and the dog dies a slow bad death. We didnt know about the parvo vacine until it was to late. If a dog has parvo in a home it can last up to 5 years in a home and 2 years on a lawn. What a horrible problem. So i am telling you all to gt your dogs vacinated against parvo!
5 responses

• United States
4 Dec 08
We only vaccinate our dog against rabies and that's only because it's a complex policy that all animals must have rabies certificates on file with the office. It's a bit extreme, but whatever. Most vaccines for animals are only at best 60-70% effective. I've had a pet die after getting the feline lukemia vaccine. So when we got our two cats, they are not vaccinated against anything but rabies. They don't even need that as they never go outside, but again, it's our complex policy. My DH's dog is a german shephard and she is vaccinated against rabies only. Her former owners got her vaccinated against everything and anything and when we adopted her, we decided to treat our pets like we treat our child: The less vaccines they get, the better.

• United States
4 Dec 08
I am sorry that you had to learn this way about parvo and your loss! I have had mine vaccinated for it since he was a pup. I think keeping their vaccines up are so important now. Funny though it is like with people diseases , you heard of more that they can contract than you ever heard before. Back when I was growing up, I think the only vaccine our long lived dog ever had was his rabies shots annually. I dont remember him even going to the vet more often than that

• Canada
4 Dec 08
Wow so you dont agree with vacins for animals. If you seen what we went threw with our dog you wouldnt think that way. I think that being 60-70% protected is better than none. I pray that your animal never contacts with parvo or anything else deadyly.

• United States
8 Dec 08
My animals don't come into contact with sick or infected animals. When our dog is out, she is on a leash. We don't take her out in public and we don't let her roam. We have nothing to worry about.


• India
4 Dec 08
yes i do know about this deadly disease where the dog falls very ill and too weak to move and starts throwing up and passing stools of blood...it is a very horrible sight expecially of a creature who has been by your side always.... so i too advice everyone who has a dog..no matter what dog you have no matter where you are living please take your god to the nearest local vet and get him vaccinated for this disease as soon as you can before it is too late...as an animal lover trust me you wouldnt want to see your dog sufferring like this in front of your own eyes



• Hartford, Connecticut
4 Dec 08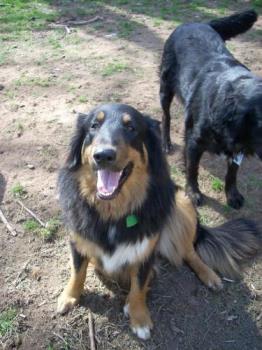 All dogs should have all their vaccines when they are puppies- Parvo is always included here in th US as one of their puppy vaccines.. the problem is -because what you say is true that the virus lives for such a long time and can only be killed with bleach that it can come into your yard or house from anywhere. A bird travelling can pick up the virus and transfer it to your yard. And once it is there your dog is in danger. I had a litter of puppies that this happened to. they had all been out in the yard for weeks. They all got their first shots at 6-7 weeks old and they require a 2nd set or booster if you will a month after the first and then they get their rabies vaccines as well. Well I sold most of my puppies at 8 weeks old and then My puppy (one of the 2 I kept) got sick. She had PARVOVIRUS! where did it come from? noone can ever really answer that. We were also caring for a male puppy that I had sold but he stayed with us while the family went on vacation. He went home 2 days before I noticed my puppy get sick. So I had to tell them what happened and I checked with the other buyers. He (bruiser) got sick too. But my other puppy (that I kept) was fine as were the others who went home earlier... so where and when and how did this virus get in my yard? Anyway it cost me almost $3000 for the vet for both puppies to get well and they are now healthy 80 and 90 pound 1 1/2 year old dogs. here is pic of my puppy at 11 mos....

• Canada
4 Dec 08
Wow thanx for your responce. i am glad that your dogs are healthy now! It is bettre when they are young if they do catch it they can get cured. Unfortunatly my dog was oldre and when he cought it by the time he actually got sick it was to far in his system to help him. The thing is noone really knows where it comes from the only thing they know is it does start with cat feces they carry it in there feces but dont show symptoms. Then teh dog smells it and gets sick. You know how dogs love doing that. It could have gotten in your yard by a cat or by a bird or other animal carrying it on there feet. Or anothre dog that had it may hav used on your lawn.

• Philippines
4 Dec 08
I have my dog vaccinated for diseases and parasites. As well as anti rabies vaccines but never heard of Parvo. My dog vet doesn't say anything about this kind of vaccine. Maybe I'll asked him about this the next time my dog visits the veterinarian. Thanks for this information.

• Canada
4 Dec 08
Thats a good idea. Just mention it to him. It is a vry bad disease that affects dogs and is vry vry costly to cure.