Have you watch Son of Rambow?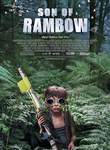 United States
December 4, 2008 11:49pm CST
Here is what the movie about: Forbidden to watch TV or go to the movies by his ultra religious parents, young Will (Bill Milner) gets a hold of a camera, and his mind blossoms in this nostalgic comedy from the team behind The Hitchhiker's Guide to the Galaxy. Set in 1980s Britain, the film tells the tale of the friendship that blossoms between Will and class bully Lee (Will Poulter) when the latter recruits Will to help him make a home movie inspired by Rambo: First Blood. First of all it looks like a kid movie but it is PG 13, about the movie i can say that i like it it,This is not the type of movie I would normally watch... In fact most of the time I avoid movies like this. But I cannot deny just how good this movie was. It was fun from the beginning right up to the closing credits. An excellent story, with magnificent character development. Don't expect action from this one. It's more of a family drama movie than an action flick. Definitely worth seeing. Have you seen the movie?
1 response

• United States
5 Dec 08
oh we rented Son of Rambow not too long ago in fact! like you, i usually dont care for these types of movies..i did find it a bit funnier than i expected though. and it certainly is a heartwarming story about friendship..and imagination lol!