Can Huntelaar help Real Madrid win the championship of spanish league?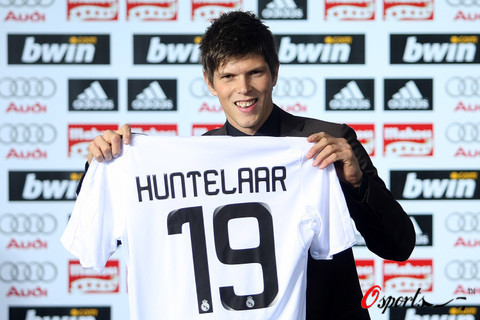 China
December 5, 2008 6:58am CST
the excellent striker of Ajax has joined one of the greatest football club--Real Madrid.Huntelaar has stayed in Ajax for 3 seasons.and played 128 times,kicked 105 goals,a crazy date,right?maybe you would suspect that the defense level of holland league is not high.but huntelaar have also kicked 10 goals in only 16 matches for his national team. ye,the fans of real madrid is happy,this excellent striker adding with Van Nistelrooy and Roul will make the agressive of real madrid terrible.but now the defense of real madrid is getting worse and worse,it has lost a few of matches.altough that,i still think real madrid have big choice to win the championship,and barcilone will not be easy to away real madrid. what's your opinion?my friends....
2 responses

• India
6 Dec 08
Yes Huntelaar will surely help Real win something this season. And keeping in mind that he is eligible to play in the Champions League is an added bonus for Real, who have been so unlucky with injuries this season. Ruud Van Nistelrooy made his best start of a season in a Real and now an injury has ruled him for the whole season. Higuain was in great form this year and even he has been injured so were Sneijder and others. And now Huntelaar comes in the right time for the Whites who surely need someone in the strike department. Saviola has not been preferred by Schuster while Raul has been poor. Taking into account all these, I feel there will be added pressure on Huntelaar. But one should take into account that a player would take some time to settle and even he is coming from an injury which certainly wont help his cause. What I hope for is "Hunter" finds his form soon and the supporters must be patient with him and not expect miracles from him.

• China
6 Dec 08
ye,injuries always go along with real madrid,even huntelaar also come out from a injury.as you say,fans of real madrid give high hope to huntelaar with the team is full of injury.this brings added pressure to huntelaar.ye,i agree with you. this is pressure.he should make a good show in this situation.but also ,this brings choince to hunter.he will not meet too strong competation at the first. thank you for your response.

• China
6 Dec 08
hi,gyt! its really a good news for bith Real Madrid and its fans...Hunterlaar is a great striker who have been chased by many big club such as Manchester United , Arsenal as well as Real Madrid...i have no doubt that he will get uesd to Spanish League as soon as possible..however, as what u said, Real Madrid currently has seriously problem both on the forwards and the defense...hope Vani and raul won't be bothered by injuries any more...as the Champions League is concerned, i think its too early to draw a conlusion about who will win...in my opinion, Real Madrid will face a big challange as they had lost twice to Juventus this season...they need to improve a lot to win the Champions League....


• China
6 Dec 08
ye,it is surprising that real madrid could lose twice to juventus.he should improve himself a lot to win the champions league.van nissterlrooy is very important to real madrid. as van and roul come up ,the situation of real madrid will become better.