Gift of God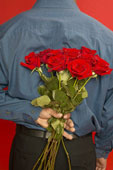 India
December 6, 2008 4:33pm CST
Gift of god is something that we all never forget. The word gift and its importance itself have its role in everyone's life who give importance to Gift. I hope a person born in a normal family or a loving family will certainly would have got gifts. May I hope the first gift as a baby would be a kiss from most of the people. I hope there are both material gifts and non material gifts. I consider most the non material gifts as more important. Material gifts do consider when someone gives importance to that. But a loving and sincere non material gift is difficult to compensated like a loving hug, loving kiss so on.. I hope the greatest gift for a couples are a baby. The baby is one of the greatest gift of God. There are other gifts too like love, affection, value of relationships so on. I hope these non material gifts would give much helping side to attain a good material gift.I hope we all like gifts when we get it from the people we love and like.

4 responses

• Philippines
7 Dec 08
I think the most greatest ever gift of all gifts is life itself.

• Canada
9 Dec 08
You are absolutely correct these are the greatest gifts of all, I would also include the moon and sun, the rain, the gentle breeze the, the flowers, and trees, butterflies, stars, good friends, all these are wonderful gifts.


• India
7 Dec 08
Exactly SHAMRACK. you are absolutely correct. That is way we believe that God is Love.