Santa came to PetSmart today, will be there tomorrow and next weekend, too.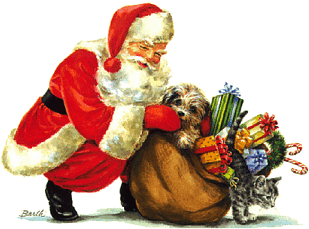 United States
December 6, 2008 10:56pm CST
That is sooo much fun! Some people dressed their dogs in holiday stuff. Some had a picture with Santa only and some with the entire family or just the kids. Part of the cost went to support the SPCA. They supplied the Santa. Whoever supplies the Santa and the picture taker gets part of the money and the Humane Society will probably be tomorrow. Next week, not sure if the Ferral Fund can get enough people. One has a Mother who has cancer and another has a husband with cancer, so they may not be able to make it this year. So many people came today, I think the SPCA received about $60. That's excellent for the first day. Last year, 1 person in 4 hours. Didn't really pay for someone to come from another county. But the price of gas was horrible this time last year. Now it's way better and word has gotten out about the picture taking. So have you ever participated in anything to help an animal society? Have you ever dressed your pet up and had his or her picture taken? Have you used the pictures as Holiday cards?
2 responses

• United States
22 Dec 08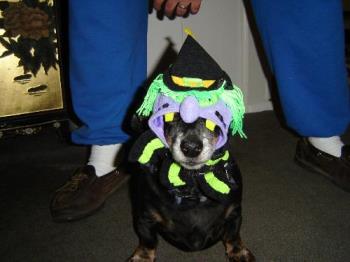 I am a little late in responding to this discussion so Santa has already come and gone from PetSmart. What a great fundraiser. We do donate to the Humane Society of Missouri twice a year but the bigger contribution is around the holidays. We are huge animal lovers. We have dressed up our dog but only for Halloween. We did this so he could greet the kiddies who came to our door. The kids loved it. We have never taken one of our animals to get a picture of him/her with Santa. I do have a Halloween photo of our dog last year. It is so funny. Same idea, different holiday..lol This is the second time I'll try to post this discussion along with the photo. The first time it wouldn't go!

• United States
22 Dec 08
Can your dog see with that outfit? Santa was for three weekends in a row, so he was there this past weekend, too. Sounds like you guys have a blast with your dog. I'll probably get a dog when I retire, right now, no time for one. Three cheers for your dog, what a sport he is. Thanks and take care

• Canada
7 Dec 08
I have never taken a pet to get their photo taken with Santa before. I don't think it would work out too well as ur dog is a rambunctious little girl. It sounds like a really cute idea. We have dressed her up with a Santa hat on, but she won't sit still so photos don't really end up that great. We have participated in a few things to help animal societies. My daughter gathered items for donation to a local animal shelter and once we participated in a dog wash. It was like a car wash only people brought you their dogs. The dog wash was kind of fun, but really messy. Luckily it was out side on a nice warm day.

• United States
7 Dec 08
Very nice response. I bet they appreciated your daughter gathering up things to donate. The dog wash sounds like that was fun.