Will this be your next CAR.....????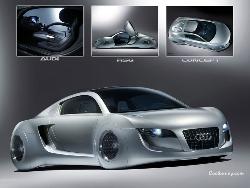 India
5 responses

•
8 Nov 06
I do love Audi's they're great. But my next car will be one of these: http://www.addanimage.com/search_results.php?q=carver It's called a Vandenbrink Carver One and is really a car and a bike. It's about 30k GBP tho so it's going to be a while before I get one :(

• United States
13 Nov 06
I would, but where exactly do you go to change the tire if need be? I've always been a big fan of german cars, but will never be able to afford one. A kid I went to school with got an 04 Audi A6 for his 16th birthday. His parents are, in my opinion, idiots.