Seeing Santa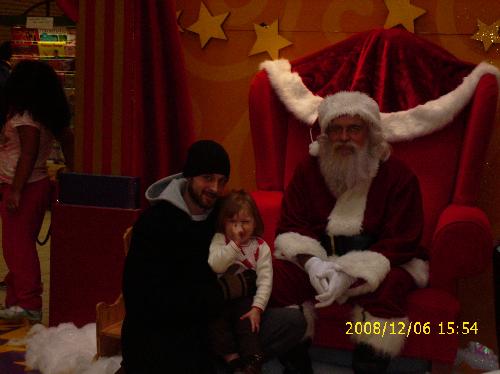 United States
December 8, 2008 1:50pm CST
We took Stephanie to see Santa on Saturday. I wanted to get a picture of her on his lap until I saw the prices!! Why is it $20 to get a freaking picture?!! They had packaged deals which I didn't really read the description of when I saw the price. I did notice that a 4 x 6 photo was $15!! I brought my own camera and they did let me take a picture, from outside the gate. It didn't turn out that great. Of course she didn't sit on his lap and Mike stayed with her. Why do these pictures have to cost so much and are your kiddos afraid of Santa?
2 responses

• United States
8 Dec 08
We saw that the year before last when we were going to put our kids on santa's lap at the mall. We took the picture from far back where they let us and it didn't come out that great either. Since then we wait till he comes to our grocery store. They have a nice little set up. It is quick and they only charge you $1.00 for a 4x6. We went to this santa's village thing last year because they had real reindeer and a real looking santa with a real beard. they wanted $10 for a 4x6. Which if the santa was good it might even have been worth it. The picture was cool he held the head of the reindeer so that it was in the picture too with the kids. The only down side was he was a terrible santa. he was a little surly and he seemed grumpy. he didn't even really talk to the kids or ask them what they wanted for christmas. needless to say we won't be going back there again.

• United States
8 Dec 08
It is just another way for people to make money off you at Christmas. I am surprised that no one does the same thing at Easter with the Easter bunny. It is all about greed and money...which is why I am usually just glad to see the holidays end...