Save money on half your "grocery bill", save the enviornment,

United States
December 8, 2008 5:13pm CST
First, I suggest you read my blog at www.blogspot.glopina.com which talks about the toxic chemicals we fill our homes with. Dollar store brands are some of the worst. By the time your done cleaning your home and doing your laundry, you have 64 toxic chemicals floating around your home. If you are using liquid soap, baking soda, and vinegar, what is your disinfectant? Wouldn't rather use a botanical disinfectant that kills 99.99% of the germs that love to enter our homes and bodies this wonderful wintry season? Second, if you want to know about cheaper, safer, alternatives, e-mail me at green3mama@aol.com. Third, if you want to make a bit of cash (not a lot, this is not a get rich quick scheme or scam, it takes hard work), visit my business site at www.CleanAndGreenMom.com Make a New Year's Resolution to life a healthier, wealthier, happier life and make our planet happy too.!
4 responses

• Canada
8 Dec 08
I love the green ideas there are so many and the make your owner cleaners from baking soda and water is genious. i have an article I wrote on some green ideas if you would like to use them please feel free

• United States
16 Dec 08
Vinegar isn't a disenfectant. Our company makes a botanical disinfectant with tea tree oil and thyme which has clinically proven to kill 99.99% of the icky things that get into your home. We have another cleaner that is a disinfectant, cleaner, and deodorizer. Made mostly from tea tree oil, this stuff will get out anything: tar, grease, tree sap, blood, you name it. It is definitely worth the investment. www.CleanAndGreenMom.com


• United States
12 Dec 08
I work at a nature center so I know all about being green. However the simplest way I have found to not have chemicals floating around my home is to simply not clean it at all lol jk. That would be a good excuse to tell my boyfriend though. Anyway Im glad to see that other people care about the environment as much as I and my coworkers do.

• United States
16 Dec 08
I've seen scary things though. Mom's wiping down the grocery cart handle with Clorox Bleach wipes and then their baby gums it. Or Lysol; everyone thinks the piney scent is "green". Lysol is a registered pesticide. The EPA estimates that a "safe" level of toxins in our homes is 500ppb. Well, Clorox wipes register at 1000 ppb and Lysol registers at 1000 pp million which makes it 1000 times worse than what the EPA recommends! With winter coming up, all these people are closed up in their homes with over 64 toxic chemicals floating around the air they are breathing. Again, the EPA says 80% of the "air pollution" we encounter is actually in our own homes! I think that's scary. Cancer used to be such a rare occurence in children but it and asthma has risen 400% over the last 20 years. I think many people need to wake up to being much greener.

• United States
11 Dec 08
I use vinegar as a disinfectant and it works great for us. We also use a pure antibacterial foam from pureworks. I put a lot of thought into what I clean my house with. I use natural items and make what I can. I really dont have to buy many cleaners with all that I can make and do on my own.

• United States
16 Dec 08
I'd have to research whether or not vinegar is a disinfectant. As per my other post, we use one that is botanical with thyme and tea tree oil. Since I homeschool my 3 boys I don't have time to make my own cleaners and while I do use baking soda and vinegar a lot for my sinks and drains, I like to spray a non-toxic cleaner on my surfaces, leave it a minute or two to work on its own, then just wipe it off. www.CleanAndGreenMom.com

• United States
20 Dec 08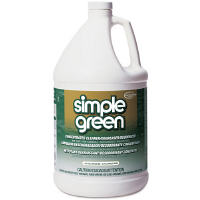 green3mama, If someone uses vinegar, would they really need another disinfectant? As for me, I use concentrated Simple Green All-Purpsoe Cleaner and sometimes dilute it 10:1 with vinegar. I still use bleach, diluted 10:1 for my shower curtain, but everything else gets Simple Green. It's amazing stuff Thank you for the link!