I was a naughty girl and Santa is coming soon.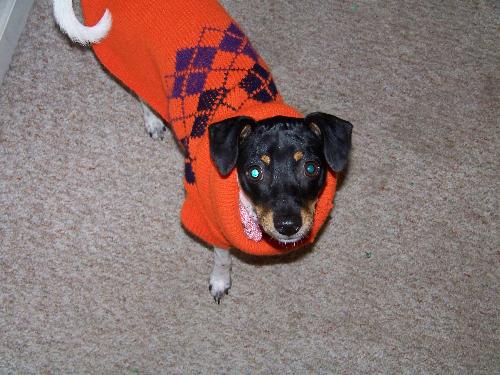 United States
December 12, 2008 12:25pm CST
Hi my new friends this is Daisy May here, Petie's new sister. I am now officially part of the the family, mom and dad got me a halter to wear because I kept pulling out of my leash when mom would walk me. I could not help it I got so excited when I saw a blow up Santa I had to bark and bark and bark and run up to it I broke one collar and then I pulled out of one collar.Mom was afraid I would get out in the street. Mom and dad also bought me a tag with my address, phone number on it. yayaya I get to stay I do have to have to get yet another mom. This is the one for me until the day I die. yayaya I do love it here I love Petie, Abagail and Sammy, even sometimes I forget and chase Sammy down the hallway. Abagail will not play that game anymore she will not run down the hallway anymore. Abagail lets me clean her face and ears and boy does she need her ears cleaned. What I was naughty about was last night while mom was on the puter I found a letter, just an innocent letter on the floor and I thought it smelled good so I tore it up in little pieces. I tore it up so badly that mom could only read a part that says "Nursing class of 2008 and a place and date" and that is all. Mom and dad thinks it is an invitation to one of their nieces graduation from nursing school but I ate who it came from and what time it is going to be. I sure hope Santa will forgive me and still brings me something under the tree. My friends what do I have to do to still get gifts? Gissi, Pye do you guys know what I have to do, to get back on Santa's good side. You see this is my first Christmas and Petie says he always gets good gifts and he tells me Santa does not leave gifts to naughty little girls and boys.

I even forgot and growled and nipped at mom last night while I was sitting by her with my chewy bone. I sure had a bad day yesterday mom had to peep that peeping noise at me to stop. I still do not know where that noise is coming from. I did not want mom to take my bone away from me. When mom stopped me from growling and nipping I realized mom would never take my chewy away from me. I felt so bad I tried to share it with mom and I cuddled up with her and told her I was so sorry. I cuddled up on her shoulder and put my head down on her shoulder. Gissi will you tell my mom I am so sorry. I forgot I was not at my old house where they would take my food away from me. So Kissy, pye and all my other friends can you tell me how to get on the good side of Santa and tell him I am just a baby and I try so hard to be a good girl, so he will not leave me a lump of coal in my stocking. At least that is what Petie is telling me he leaves naughty girls and boys.
3 responses

• United Kingdom
13 Dec 08
Ok Daisy I will have a word with Santa do not worry about it but you have to be good now do you hear I was naughty to the other Day as I was going for everyone that came close to Mum, Mum was really shocked at me, I don't know why I just felt that Mum needed protecting that Day but as Mum says they where all People that I know, I even went for Mum's Boyfriend and I love him very much and I know he would never hurt Mum but he was really good about it as he said to Mum I was only protecting her that I obviously felt I needed to because that Dog bit her 2 weeks ago So you see we can not always be good so I think Santa will forgive you as you have had a rough time and need to learn that now you have a loving Home, it took me a long time to learn that it is not easy Your Mum understands to that you are still learning to trust as your Mum is a loving Person and cares so much for her babies, she understands My Mum sends you all her love and hugs, say hi to Petie and let him know I will ring him normal time ok Love to you all .........Gissi xx

• United States
14 Dec 08
Gissi, you are so good to me. Gissi, Petie wants to know if Cookie is still visiting I have not met her yet.Petie say she is nice also. Mom and dad are at their first holiday party of the year. I cannot wait to see if they bring any gifts home. I know they took to so I hope they bring one to two home for me. Thanks you make me feel better about Santa I sure home he will forgive us. What do you think make you go off on your mum's boyfriend? I guess he was wearing something you did not like. Sometimes when dad wears a hat I do not recognize him and have to bark at him. Then once he speaks to me I realize it is him. Gissi mom says I am coming into heat and she has to fix me. Do you know what means, mom says I am to young to know about such things. The thing is I did not know I was broken

I just know that my privates are swollen and I kind of hurt down there. I hope I do not hurt to much more I am so confused. Does it hurt to be fixed when you are not broken?

• United Kingdom
14 Dec 08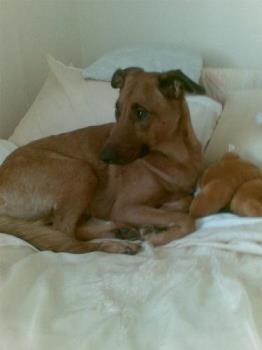 Hi there Daisy Cookie is back at home now and yes she is great but she is bigger then all of us lol, I just have to train her every time I see her, she is still not mature enough Ok Girl Santa will forgive us as he knows our Backgrounds and knows that we are not really naughty we just have Flash Backs at times when a wrong move is made, I have bitten Mum 3 times since I have been with her and I mean, Daisy, I have bitten her, I have regretted it after when I realized Mum was not going to hurt me but it was just that move that scared me As for Mum's Boyfriend I didn't mean to as I love him to bits and I love when he is here, he told Mum he thinks I did it because I am protecting Mum as she was bitten by a strange Dog 3 weeks ago, it was horrible, Daisy, Mum got bitten at the top of her Lip because she was saving me, she says this Dog would have killed me. But I was forgiven and he carried playing lol As for getting fixed lol, it is not because you are broke Silly

It is something that you Females get and the problem is that in this time you can get full of Babies so poor Petie has to go through what I go through when Cookie is at that stage tell him to get some Earplugs hehehe, as he will get ......Petie no, Petie get away from her and so on hehehehe But do not worry Girl that is all normal, I am sorry it is sore though, but I think it is best that you do get fixed I am going to attach a Photo of Cookie for you Big Hugs Girl and don't worry our Mum's understand us very well

• United States
14 Dec 08
It is so cold here this morning it is 31 degrees and looks like snow on all the roof tops. Mom says it is so cold it would freeze Petie's balls off if he had any what ever that means. No Petie has not looked at me twice since I have been swollen in my lady parts I think I could not handle that at all. It hurts down that let alone someone else putting their nose down there. Thanks for the info because mom will not tell me she says I am to young to know.


• United States
13 Dec 08
Hi Daisy May! This is Star & Luna! We are Opal's kittys! We know all about you from Petie. He told us that he was getting a new baby sister and he was hoping that you would be a nice girl and he would like you. We hope you are being nice to Petie because he is such a nice boy and he is our friend. We are Pye and Kissy's and Gissi's friends too. Your mom really is a very nice mom and you are very lucky to have her. You have got to learn to be a good girl! We know it's hard for you, but you have to keep trying and remember that Petie, Abagail and Sammy live there too and are trying to get used to you sharing their mom their house. If you want Santa to bring you presents you had better start being a really good girl from now on and don't make your mom mad anymore. You have to listen to her and not bark or bite anyone anymore! Well, it was nice talking to you Daisy May. Mom is coming back now and she is going to be mad at us if she finds us on her chair and sees all this kitty hair on her computer keyboard! So we better run and hide. Have a nice Christmas and say hello to your sisters and brother for us! Be a good girl! Merry Christmas from Star & Luna!

• United States
14 Dec 08
Nice to meet you Star and Luna, I do like to meet new friends. Since I got beeped at I have been a good girl. I am afraid if I am not a good girl mom will send somewhere else even though mom has told me other wise. OH NO you will not believe what is happening to me now. I do not know what it is but I am swollen down between my legs in my privates. I do not know what that could be. Mom told dad she thinks I am coming into heat. Does that happen when I am bad? Will that keep Santa away from coming? I sure hope not. Mom says she needs to get me fix, fixed from what? I thought I was already fixed the way I am? I am so confused its giving me a headache.

• United States
12 Dec 08


How adorable, I will have to speak to Santa and say look, please be sure and deliver goodies to this precious dog. I love your post. Merry Christmas! I have three here that may need someone to speak to Santa about them too! lol

• United States
14 Dec 08
Thank you, thank you, thank you, I do live you I will give you licks all over your face and ears. I do want my first Christmas to be a good one.