X-mas possible for me due to bidz.com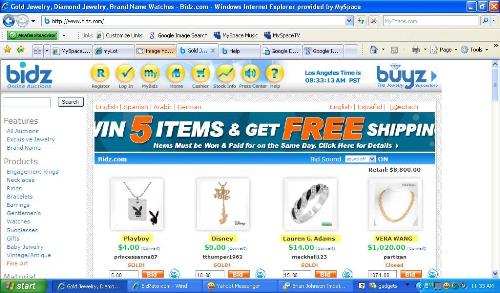 Atlantic City, New Jersey
December 13, 2008 10:37am CST
Hey my mylot family,I just made some purchases for christmas I otherwise didnt think I was going to be able to do due to Bidz.com. I wanted to purchase something nice for my family members (mom & sis) and knew I wouldnt have the money to purchase anything this year. This morning I decided to check out one of my favorite auction sites bidz.com and came across some astounding deals. I got presents for both that were well worth over 300.00 each for a little under 45.00 for both, including shipping & handling. I also was able to get a little something extra for me. I have purchsed through them before a year or so ago and liked the quality and efficiency of their system. I wont give away what i bought because both mom and sis are a part of our mylot family; BUT I will say that each item was under $10.00 and the shipping was more than all three items I ordered put together...lol. In total I got it for the amount I stated above $45.00. Although Bidz.com may take a little patience and persistance to get the deals you want, I feel it is well worth it. Otherwise I could have never afforded gifts of jewlery for x-mas. For those of you who have never checked it out - I highly recommend it. For those of you who have a history with Bidz.com - please share about your experiences with them. All mine have been good thus far and I will check back when the items I purchased this morning arrive;) Happy mylotting and for the fruggle (me included) happy shopping at Bidz.com;)
2 responses

• Holiday, Florida
14 Dec 08
wow. thanks so much for the tip. i should go look. its been a long time. arent they in with ebay?

• Atlantic City, New Jersey
17 Dec 08
Im not sure about thier connection with ebay...ill have to research that one and get back to ya ;) Yeah, definitley check it out ~ its well worth the bidding time.

• United States
15 Dec 08
Hey WWW, did I not tell you that I don't want anything for X-Mas? You know I did...I love you and I know your finances...You really shouldn't have...all I want for X-Mas is for you and CC to be healthy and happy, THAT'S IT!! I love you...gotta say though, now I'm curious! I love you with all my heart! ~G Mom~