Any dollmakers out there?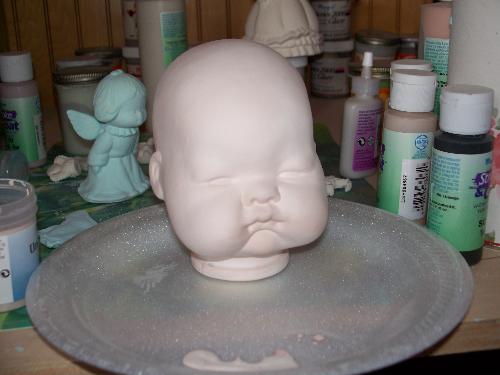 United States
December 14, 2008 2:20pm CST
I am just starting the dollmaking and would love to hear from other doll makers. Show your dolls off. I have several dolls in the works. Mine range from 5-7 inches to newborn size. I also do the teenie tiny dollhouse babies they are like 1-3 inches.
3 responses


• United States
15 Dec 08
I know it is taking me forever to get mine even ready to fire in the kiln the first firing. They are time consuming but I love it. Of course this darned cold has set me back. Didn't feel like going to the studio for several days.

• Australia
14 Dec 08
I have been involved in many crafts but i never did get into doll making but I had thought about it once after seeing a doll a friend of mine made some years ago, this doll looked so real it was scary, it looked like a real sleeping baby, it was beautiful..

• United States
14 Dec 08
I just got finished underglazing the arms and legs and this baby is going to be super cute!!! the size of a newborn, all the wrinkles on the arms and legs and tiny fingers and toes. It is scrumptious lol. I am so happy with it so far. I love making dolls so far. Don't think I will ever tire of it. I have a bid on some preemie clothes that I can use for my bigger babies like this one. I will have to make the clothes for the little 5-7 inch ones.

• Canada
15 Dec 08
I've said it before, and I'll say it again. You have got to be one of the most creative people I have ever met. I don't doo stuff like that. I don't have the patience to do stuff like that. Writing is my creative outlet. LOL Anyway, it would be interested to see some of your finished dolls, when you get them done. Thanks for posting another interesting discussion.

• United States
15 Dec 08
Keep an eye out over the next week I will be posting dolls in vvarious stages of completion. A friend of mine is sending me one of her cloth bodies and the pattern so I can make them like hers which are really nice so my babies bodies will be soft bodies with ceramic heads arms and legs. I just got done underglazing some arms and legs to be fired on tuesday. Then I will finish the coloring of the baby parts then it is hair,body and clothing.