Homeschooling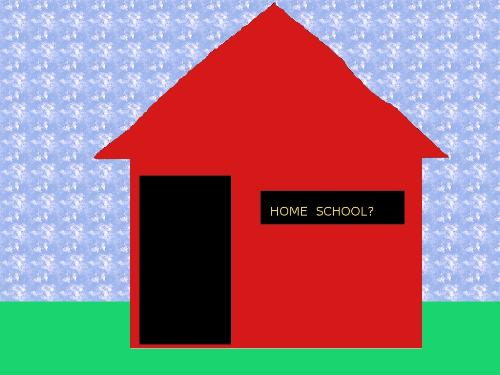 United States
December 14, 2008 8:41pm CST
What do you think about homeschooling youngsters? Do you think it is a good or bad idea? It has become easier with the advent of computers. With such tools you don't need to be an accredited teacher in order to provide your son or daughter an education at home, but are there enough safeguards to insure that children obtain what they need for adult-hood preparation?
3 responses

• United States
15 Dec 08
I think homeschooling is an excellent option, if you can do it. I do think there are plenty of safeguards like groups that let you get together with other homeschoolers in your area. Everything can be a learning option, like shopping can be an economic learning, for an older child and a simple math class for a younger one. I have also seen a girl who was homeschooled that once she was away from her mother's influence just went crazy, ended up in jail, then pregnant. Tho, honestly, her parents had a part in that, she was ONLY the girl, not the all important son.

• United States
16 Dec 08
Home schooling, like regular schools, are not all created equal. I would inquire if this girl you speak of also had mental issues left undiagnosed.

• United States
17 Dec 08
That is true, we don't know the future and personalities of children factor in their actions.

• China
15 Dec 08
Hello CraftyCorner. To begin with, thank you so much for the topic on Homeschooling. I think that homeschooling has its advantages as well as some disadvantages as follows. Advantages: it is more flexible for the parents to teach the kids based on his understanding of the knowledge to be taught to the kids and it is easier to make some adjustments. Disadvantages: it is beneficial to the development of the kids' personalities such as group work and social activities. I think that it is better for kids to stay together for study. This way it helps to develop the kids' sense of competitiveness as well. I have only thought so mush so far so good. Thank you again for your discussion, my dear friend.

• United States
16 Dec 08
The disadvantages can be negated by Y.M.C.A. activities, play dates, and group homeschooling. * I'm glad you like this post!


• United States
15 Dec 08
I believe that parents should share in the role of educating their children, but I do think that it is important for children to go to school.. The social skills that they learn are so very necessary. i have a friend that is going to home school her 4 year old daughter and I have tried every tactful way I can to let her know that her child needs exposure to the routine and discipline of a structered school environment. My mother sent us to school and had her own curriculum that she taught at home. Our minds were constatnly being challanged, and her additional education was a perfect compliment to the subjects we were taking in school at the time.

• United States
16 Dec 08
The socialization you speak of can be obtained via play dates (with young children) and afternoon activities such as held at the Y.M.C.A.. * There are children out there that are poor fits for today's school curriculum. Especially if you have a lousy school in your area (very common), some are eliminating recess, some are test happy at expense of education thanks to No Child Left Behind.