Do you celebrate when your baby turns 1 month old?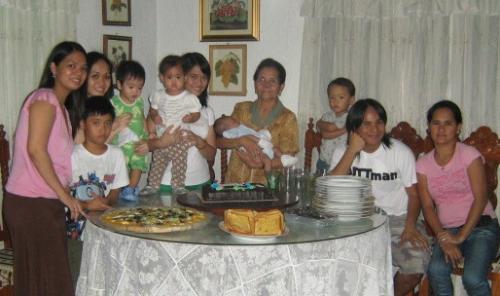 Philippines
December 15, 2008 3:21am CST
My baby is already 1 month and 11 days. We celebrated last December 4 (1 month from his birthday). It was a very simple celebration. We just had noodles, cake and bread. They say that celebrating the 1st month of your baby will make your baby healthier. Well it is one of Filipino beliefs. How about you, do you celebrate your baby's 1st month?
9 responses

• Malaysia
15 Dec 08
I don't know whether that will make your baby healthier or not but I celebrated my baby birthday on monthly basis. We celebrate every time he is another month older and it was really fun to keep track om his progresses in life. In two days time, my son would be turning 20 months old and that would be another celebration. As he gets older, every celebration is making him happier and happier as he understands more when he is older and I am sure that he would be enjoying this 20 month celebration more than the previous one. We are doing it out of fun and not due to any beliefs and therefore, we can celebrate it in any way that we like. Cheers!


• Singapore
15 Dec 08
I haven't have kids yet but I am sure me and my wife will be celebrating the 1st month of our baby. Not only it is part of our Chinese culture, it is also a time for our relatives to give their blessing to the new born. Congratulations to you and your family and my blessings to your child. Happy MyLotting...


• China
22 Dec 08
Yeah, Chinese people follow the same the traditon too, we call it a "full-month" celebration, we also have noodles, eggs. but i have no child, and plan to have one in one or two years' time.

• Indonesia
15 Dec 08
Congrats for your baby

so it's been a month, time run fast ... hopes your baby is healthy, i'm not married yet, but we do celebrate certain days for the baby


• Italy
15 Dec 08
Wooooooooooooooooooooo *__* Sssssso sweet *___* I will not make a party for 1month, but I would be very happy to my baby growing *.*

• United States
15 Dec 08
[i]Hi rose, Happy Happy one month old for your cute baby! Let me join the party! LOL! I have no kids this time but I love the idea! ENjoy![/i]




• Philippines
15 Dec 08
yes me and my wife do that. my wife under wnet C-section so during the first and second month we just buy something from a resto or a fastfood. when she started to get strength back she cook spagetti or noodles and i buy cake. we did that till his first birthday. we have photos of this celebration and of course taking pictures of our childs developement every month.