Are You Feeling Small Yet?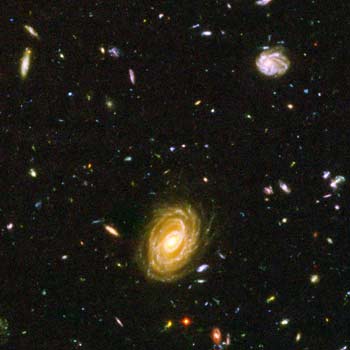 United States
December 15, 2008 11:54am CST
Just some fun facts about our Universe. The largest country on Earth is Russia. A car driving non-stop at a constant speed of 65 mph would take approximately 77 hours to drive across Russia. The average distance from the Earth to the Moon is 238,857 miles. A car driving non-stop at a constant speed of 65 mph would take approximately 10 yrs 1 month to drive to the Moon. Whenever you look up at the Sun, you are seeing 8 minutes 31 seconds into the past. That's how long it takes the Sun's light to travel to Earth. Jupiter is the 5th and largest planet in our solar system. It's diameter is 88,846 miles across. It is 390,682,810 miles from Earth at our closest orbits. Neptune is the last planet in our solar system. It is 2.7 trillion miles from Earth. The closest star to us, outside our solar system, is Proxima Centauri. Traveling at light speed (670 million miles per hour) it would take more than 4 years to reach it. The star Betelgeuse, which can be seen in the constellation Orion, is 640 light years from Earth. It is one of the largest suns visible to us with the naked eye. You would have to set 180,000 Earths side by side to reach across it's diameter. There are 200-400 billion stars in our galaxy, the Milky Way. The Milky Way is just one of billions of observable galaxies in our Universe. According to some theoretical physicists, our Universe may be just one of many dimensions in a Multiverse. Are you feeling small yet?

7 responses


• United States
16 Dec 08
I would feel smaller if I could ever get back into my size 8 jeans.


• United States
16 Dec 08
lol not really as we here on earth are all about the same size and to drive acrothe us takes abot 39 hours coast to coast and i never drove at 65 miles an hour more like 80 to 85. BUt thn ya know that all that is way out there for us to look at and wonder if their are more worlds than ours!

• United States
16 Dec 08

• Canada
16 Dec 08
thanks for the trivia, these things are always interesting.

• United States
16 Dec 08
You're welcome, glad you enjoyed it.

• Canada
15 Dec 08
Hi craftcatcher, You are right our own earth itself is just a mere spec of dust, when compared to the universe and that's just our own universe. We know that there are untold numbers of universes out there. So I guess we should all feel small. We should also admit that we know very little. Blessings.

• United States
15 Dec 08
Hi Pose. Yep if people thought about it more often, it would cut down on a lot of arrogance and feelings of superiority. Personally it keeps me humble and not so concerned about the little stresses in life.


• United States
15 Dec 08
I am feeling small enough by now....

At least I know for how long I should take my vacations if I want to visit Russia. I am not sure if I can be taken to the moon, but maybe....??? HUGS

• United States
15 Dec 08

I wouldn't mind taking a nice leisurely trip to the Moon, but I'd need a fully loaded Winnebago!

Hugs

• Malaysia
16 Dec 08
Hello craftcatcher, Oh, you really make me feel so tiny in the whole universe

Anyway, thanks for the info and I am glad to add you as a friend. You always come up with new info and I like to keep it. Later, whenever I am free, I will start a conversation with my hubby or friends with the question, "Do you know that ...."


• United States
16 Dec 08
Hi gr8life! I'm so glad you enjoyed my little trivia list. I love picking a subject and looking up little facts on it. It's sort of a hobby of mine. I'm glad to see at least one person actually getting some use out of the info! Makes me feel good that my hard work is worth something to someone besides myself. I really appreciate you letting me know that. It gives me incentive to do it more often!


• Malaysia
17 Dec 08
Hello craftcatcher,

Keep doing it and at least, you save me from doing the research or looking for the info myself. Sometimes I find your discussions are useful but some other times, I just feel that I am not up to your expectation to respond to your discussions

I love basic and light topics as I don't have much time to think deeply before answering someone else discussions.


• United States
20 Dec 08
I'm feeling extremely small, but I thought China was the largest country in the world. I suppose geography just isn't my subject.

• United States
20 Dec 08
Hi precious! By land area Russia is #1, Canada is #2, and depending on which source you use and which administrative territories are included The United States and China are about tied for #3. By population China is #1, India #2, United States #3 Thanks for your comment, it gave me an opportunity to add some more trivia!


• United States
21 Dec 08
Thanks for the information. I had no idea that was the case.