The New Christmas Decorations....

Canada
December 15, 2008 8:22pm CST
Are Very Impressive! The new lights are cold to the touch and never heat up and the new hooks to hang your ornaments are plastic instead of the old hook style! I just love this for the safety of our children over the holidays! Also, the new bulbs are shatter proof!! What do you think of these new modifications? Have you noticed any other changes that you are happy or not happy with? Do you have any other suggestions for safety over the Holidays? You don't need to keep it just to the tree decorations! Merry Christmas! ~Heavens~
4 responses

• United States
16 Dec 08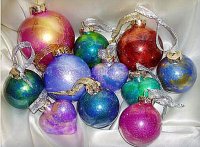 I guess I haven't noticed because I haven't bought anything new as of late. Guess is great for those that have kids. I like the old ornaments but then again a lot of mine have the gold string that you use to hang on the tree. I don't replace my lights until one quits working then will buy to replace. I don't know if they have them down here or not. My Step daughter just bought enough ornaments to load her first tree and I don't think they had plastic hooks. I should tell her to start looking for them because her sons are 3 and 2 and lets just say. ummmm they don't keep their hands off. I think some of her ornaments are plastic though.

• Canada
16 Dec 08
I live in Ontario Canada and when I bought some new decorations for my bigger tree this year I had a hard time fining the hooks as you have to buy them separate! I finally found them at the end of an isle and they are actually more like loops and they are plastic! They were labeled Hooks otherwise I would not have known what they were! I was so happy I got enough to replace on all of my old ornaments as well as the new ones!! I hope you can find them there for you Grand Children! Also, My lights never get hot and are shatter proof, I love that too!! ~Heavens~

• Canada
16 Dec 08
Definitely worth looking for! They should be somewhere taroung the isles of Christmas Decorations!\ I hope you are able to find them or you can as a sales associate! ~Heavens~

• United States
19 Dec 08
i think all the bulbs that you hang on the tree should be shatter proof, as I hung them on the tree this year our cat decided to play with them and he has knocked off 2 that has shattered on the carpet and although you clean it up there is always little slivers of glass that remain to get in a little one's foot, and you know no matter how hard to you try to get if all up there is always more. Plastic hooks too instead of the wire ones would be a great help, how many I have stepped on after christmas witht them down in the carpet. And lights that don't get hot, that is great, I didn't buy any new christmas decorations this year so I don't know what is out there but it seems they are getting the idea to get away from glass and hot bulbs and that is good.

• Canada
20 Dec 08
I agree with you! It is nice to know that the lights are shatter proof and do not heat up at all! I was very happy to see the plastic hooks for hanging as well...Definitely a step in the right direction!

~Heavens~

• United States
17 Dec 08


I am so glad they are safer because it was always terrible to see the fires from the old ones, and it seemed like every winter there would be so many fires from lights or lights on the trees and they really got too hot and yes its much safer now.....

• Canada
17 Dec 08
Definitely better for fire safety!


Have a Safe and Happy Holiday! ~Heavens~


• Canada
16 Dec 08
Me too and just this year I bought brand new lights...on the package it states they are shatter proof and also, I can have them on for hours and touch them and they aren't hot at all....in fact they are cold! It's a huge relief especially with my boy! ~Heavens~