yes! payout!

United States
6 responses

• United States
16 Dec 08
For me personally, I don't think it has taken very long to reach payout. I can make it easily in a month if I put my mind to it. It only takes a couple hours a day. I don't push myself, I just do what I can. If I make it great, if not, there is always next month. Congratulations for reaching your first payout. It is a great feeling.

• United States
16 Dec 08
Yes,yes it is a great feeling! I just know that I can do it faster next time, I now have a fairly good grasp on the money making thing for mylot. It is all about amount of time in a day I think

• Indonesia
18 Dec 08
Woah! Thats so nice! my first payout at mylot was after i post 1000 and i also make my englinsh writing perfect by that. Before i join mylot, my english was (shy) dull LOL

okay,... After a year and reading seniors member discussions, i think i got it. Mylot been paid me about ~$50 till now. Not bad for someone that have no mother tongue in english , right ?? I think i need a helmet now because my head is getting bigger. Happy posting always oxox'dian from Bali island.

• United States
18 Dec 08
haha ! wow $ 50 ! that would be awesome almost a years worth of what I got in mind for it...maybe I should had made mine the $50 payout instead of $10. actually, which brings up a good question... does the payout you set it out determine also how much you get paid? like if you said it at $10 they going to make it longer , or what?

• Indonesia
19 Dec 08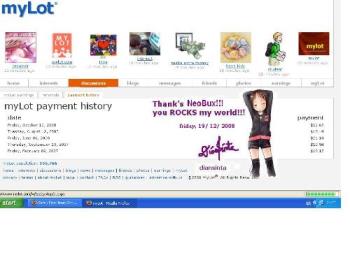 My payment mostly i set min for $10, but at my 3th payment i want to save it intil it reach $20. here they are : $11.66 $18.44 $21.14 $10.94 $10.17 Hope you can catch me later


• United States
19 Dec 08
wow nice! i might start making mine $20 myself, I can get more with it, so I won't be tempted to waste it heh. even though I would find it quite humorless if someon set theres on $100 and got theirs, they would be like, " oh my god, oh my god constantly. Merry Christmas, Luvandpower


• India
16 Dec 08
really? u got payout at 518 posts lucky you and congrats man happy lotting and have a nice day

• United States
16 Dec 08
Congrats! I just joined a week ago, so I haven't reached mine yet. I'm looking forward to it though! LOL! Rhonda

• United States
16 Dec 08
best of luck to you, just continue doing a lot of discussions and comments and you will get one real fast...I honestly believe that is how they measure the income is by how long you do this in a day.

• Malaysia
16 Dec 08
i hope i reach my payout soon... i have to get used to the system... i got $2.92 now.... i hope i post a lot so that i can reach my payout faster... all it takes is perseverance!!! and for luvandpower, congrats on your first payout... keep posting at mylot... all the best...

• United States
16 Dec 08
To be honest...even though we are encouraged to not talk about it, I think you make more the longer you are on making various discussions and/or comments at one particular time. Besides their motto IS we pay for you to shut up.

• India
16 Dec 08
Hi luvandpower, congratulations on receiving your first payment.I can read your happiness. I don't mind the time taken to reach the target.That is relative person to person.You see, some sites are not paying after a long time work done for them. Further, mylot is a better place to communicate like this.Good luck.

• United States
16 Dec 08
Yea I do admit I am happy about it...and I do know a lot of sites are scams when it comes to actually paying...but I guess I have somewhat "bonded" with mylot so to speak anyway..I guess it just goes to show.