Do your kids look alike?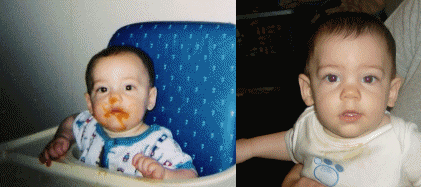 United States
December 19, 2008 5:57pm CST
People who haven't seen my boys in awhile often mix them up. One day FIL came over after not having seen the kids in a few months, and thought my toddler was my older son. If you put my boys' baby pictures side by side, you wouldn't be able to tell them apart. Although my daughter definitly looks different now, her baby pictures do look a lot like her brother's. Do your kids look alike? Here's a picture of 2 babies.... can you tell if it's the same baby, or 2 different babies. For added fun, try to guess which of my kids the pictures are of (for those who've seen my kids pictures before of course).
10 responses

• United States
21 Dec 08
My kids definitely look like siblings but my oldest son and my youngest, the only girl, look very much alike. They look like their father. There are many things about them that are eerily similar. The 2 in the middle are fraternal boy twins (I have never had them medically tested) but they look nothing alike to me but there are alot of people who cannot tell them apart. To me they look similar, like brothers and they look like me.

• United States
21 Dec 08
Even if they were identical twins, a mom can always tell a difference. People tell me my twins look a lot alike, definitly not identical, but they say they look alike. Mine are fraternal though, boy and girl.

• United States
20 Dec 08
I get told all the time how much my younger two look alike. I'm not so sure. They have the same color hair and same shaped face, but other than that, I don't think so. My son has green eyes and a dimple. My daughter has blue eyes and no dimple.

• United States
20 Dec 08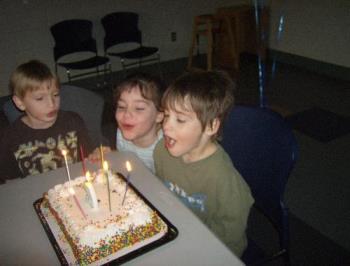 I've been told that my twins look alike, but that is furthest from the truth. She has dark hair, he has light hair. She has blue eyes, he has brown eyes. He's not fat, but has a larger body than she does, and she is taller and thinner than he is. He has a round face, she has a slim face. I don't see how anyone could think they look alike.

• United States
20 Dec 08
YES!..I am a mother of three (3) boys and each one of them look so much alike that I get them mixed up! :D Their ages are 8, 4, and 5 months. They seem to have all the same facial features when they were babies. They all have blond hair and blue eyes. They all seemed to have done the same things growing up. My dad once thought that my 4 year old was my 8 year old and so on. It was funny... Also to mention, my sister and I DON'T look alike but one of my brother's and I are almost identical except for the height, and gender. He is also 3 year older than me.

• United States
20 Dec 08
I showed my husband a picture of one of my older boys when he was a baby and he didn't know which child it was. Usually we have to look at the surroundings of the child to know which child it is, because we lived in a different house when the twins were babies, but my youngest 2 were born in this house.


• United States
20 Dec 08
You're right. The one in the highchair is my 6 year old, the other is the 11 month old. Another picture probably would have been better, but I only have a couple of my older on on my computer. If you look at the newborn pictures though of the baby and the toddler.... my best friend looked at them and said they were identical, she couldn't tell them apart.

• Philippines
20 Dec 08
Baby on the right is the older one. Am I right? Anyways, i have identical twin daughters. They're 8 years old now so they really look alike though there are distinctions. My sisters and i though, don't look alike that much!

When we were growing up,people always tell me that i look different. Sometimes, just a joke, my sisters and brothers often tell me bfore that I was adopted. But when i lost weight during College, it was the time that i looked like my mother...and all of them looked like my father..so the new joke was... "so who's adopted now? who gives birth?" hahaha!


• Philippines
29 Dec 08
Hi there! Thanks for the BR.

But I was wrong about your kids on who was the older one. It was the other way around.

Though I am expert in telling my twins who is who, i guess, i also have problem distinguishing others' kids. Thanks again, friend and happy mylotting!


• Shingle Springs, California
20 Dec 08
Nope: http://rddcn.multiply.com/photos/album/193/2008_2009_School_year (not a referral link lol) Well the twins do somewhat, but not really...

• United States
20 Dec 08
They do all look a bit alike. They have the same facial features, I think it's their eyes. The hair is definitly different, but their faces are rather similar.

• Canada
29 Dec 08
All three of my children look different but the boys look more alike than my daughter. She has orange hair and green eyes and VERY light skin, where the boys have both brown eyes and hair. But the bone structure of them are totally different. My older son is stocky and tall while my younger son is skinny and short. My daughter is tall and thin. The age differences are enough too to tell who is who. So there isn't anything very similar there. But I have different dads too. But growing up I didn't look like my sister at all either. So it is normal. I have a couple baby pictures of the boys that it is very difficult to tell them apart. The too baby pictures of your are very close to the same but I would say that they are two different boys only cause the eye colors look a little tiny bit different.

• United States
26 Dec 08
I don't think that our kids look that much alike right now but everyone else seems to. My oldest looked just like me when she was a baby. If you would put her baby picture up with mine we look the same minus the 80's style dress i'm in lol. our younger too looked alike as babies. if you look at pictures of my daughter is looks like our son in a dress lol. Now though they are easy to tell apart.

• Jamaica
22 Dec 08
My eldest son and the youngest one have grown to look alike from they were tennagers. They never looked alike as babies. Apart from them all have dimples in their cheeks,(inherted from my husband) the middle son does not really look like his brothers. They are all very tall - the middle one 6'3" and the others 6' 1". My daughter has dimples and I guess there is a family resemblance but she is about 5'4". I haven't seen the pictures of your children before so I couldn't know who is who. My grand twins do not look alike either. I suppose you could take them for brother and sister but they are different with different eyes. The girl has my daughter's beautiful eyes and the boy has his mummy's beautiful eyes. Blessings

• United Kingdom
22 Dec 08
The two babies do look identical however I think they are brothers one from now and one taken years ago. I have two sons, one aged 13 and one aged 19 months. I think they look different, maybe that is the age factor. My oldest niece looks similar to my oldest son. My two nephews and 11 and 8 and they look identical. They both have the same coloring and very similar faces. I am a primary school teacher and on teaching practice I was at a school where school uniform wasn't necessary. I had non-identical twin girls and the looked different from each other. However I had a boy and a girl, both had short curly blond hair and blue eyes. It was awful to mix them up.