How many TEETH you have...

India
11 responses

• United States
8 Nov 06
Most adults have 32. 16 downstairs and 16 more, upstairs on the upper floor...is what my daughter's favorite book says. My daughter is missing 3 permanent teeth though! It is a genetic trait she got from my father. Luckily you can't really tell just by looking at her.

• United States
8 Nov 06
I am missing three of my permanent teeth too. The dentist told me that it is because of a severe fever I had as an infant; apparently it killed the "buds" that would have eventually turned into adult teeth. Long after my other adult teeth came in, I still had those three baby teeth chillin with the rest. My orthodontist had them pulled with the intention of closing the holes up with braces, but I moved and switched orthos and it was never done. I haven't worried about it because they are not visible when I talk or anything, but I plan on getting it taken care of eventually. I'll have to look into the genetic thing... I wonder if I was told wrong? Do you care if I ask which teeth your daughter is missing?

• United States
9 Nov 06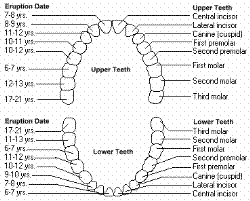 Now I am really curious lol... I never thought to see which teeth, specifically, I am missing. Turns out they are all second premolars (both on top, and the lower left). The fact that they are all the same makes me wonder if there is a reason beyond a bad fever.. seems like randomly missing three of the same teeth would be a big coincidence!


• United States
8 Nov 06
I am sure if people would noticem no two mouths are completely alike or the same. I know my mouth does not have the correct amount it should due to Tooth loss.

• United States
8 Nov 06
I only have 28 because my wisdom teeth havn't come in yet. The dentist said that they probably won't come in because they are pushing against the back molars, and the can't move.


• India
8 Nov 06
31. was having 32 complete.. two years back undergone with surgery to remover my wisdom teeth...