58 Months!!!!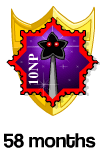 United States
4 responses

• United States
21 Dec 08
Wow,that's the 1st time I hear of such thing. Maybe I should visit my homepage more often lol Congratulations to you!

•
22 Dec 08
I hated my shield so much that I replaced it with a made up one that I got from pinkpt. When I get to 58 months, I might just take that one off as that one looks so good. I'm glad it's not just me that thinks the shield designs are horrible.

•
22 Dec 08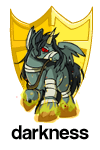 I tried to upload a pic but it didn't work. It will this time I've changed the format.

• Canada
23 Feb 09
I totally agree with you there ! I so hate my badge, its ugly. I wish they would give u like 3 options to choose from when your badge changes. I wonder when they changed the site around, because before they never put "halfs" on your "age", it used to only say 7yrs on my badge, now it says 7 & 1/2

• United States
5 Mar 09
I haven't looked at my own profile page in so long that I have no idea what mine is. I tried to look it up just now and I couldn't find it, but I don't want to log into Neopets at work to check it for you. I hope it's something cool! Most of the time it's lame and that's why I never check it!