They're Canceling MadTV

United States
December 21, 2008 4:09pm CST
I've been a MadTv fan since the show started. I actually thought it was funnier than Saturday Night Live. I was watching it last night when they showed a commercial advertising "Talk Show With Spike Whats-his-Face" and they said that it was going to start coming on at 11/10 pm, which is the time that MadTV usually comes on. So I got online to see if they were going to stop showing MadTV and sure enough, it's getting canceled. It was one of my favorite shows too. Any other fans out there as ticked off as me?
2 responses

• New York, New York
21 Dec 08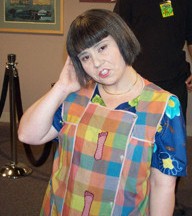 I herd the same thing and I wish they can save the show, this show is incredible. The characters these actors play are amazing and so life like. I like so many of them it is hard to pick a favorite, I will surely miss "Bunny Swan".

• Philippines
23 Dec 08
yeah,im also a fan of madtv especially with mo collins in it. this is the first time i heard that it's going to be cancelled. It is very sad. I hope there was a way to save the show cause it is the best and funniest show.oh well from kukai http://kcatwoman.blogspot.com

• Philippines
23 Dec 08
i just remembered, stephnie wier is my favorite when she plays dot and anna nicole smith. remmeber the cold case parody? that's the funniest. oh i wish mad tv would be funny like that again