cooking per meal or cooking for the week?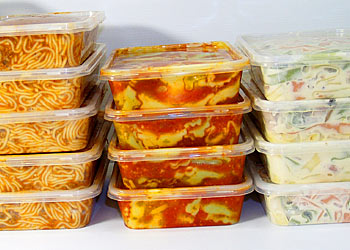 Singapore
December 22, 2008 8:25am CST
Though I have housemates, cooking food here is a personal thing... meaning that you are responsible solely for your meals. We do share sometimes but it doesn't happen very often since I do not eat pork and beef (which they usually have). Anyway, I was thinking of preparing my meals in advance and then storing them in the ref so i can just re heat when necessary. Do you guys do this? What could be good meals to make before hand? I have to prepare the right meals because there are some that are better cooked fresh.
10 responses

• United States
22 Dec 08
I would freeze rather than refrigerate because some foods don't keep that well if they're not frozen. Pastas and potatoes are better cooked fresh. Rice freezes well and almost any meat is fine cooked. I probably wouldn't refrigerate fish for more than one day since it doesn't keep well. It's fast to cook, though, so maybe you could do that. Some vegetables, notably green beans and peas turn mushy after being cooked then frozen.

• United States
22 Dec 08
When I was working, I always cooked meals for the whole week and froze them. I found it better to freeze just the meat and the veggies and to cook potatoes, rice and pastas on the day of the meal. I put a serving of meat and veggies on a paper plate, covered it with aluminum foil and froze. It was just like a frozen dinner that you buy in the supermarket. Chilis and soups are also good make ahead options but the problem with them is that if you are only cooking for one you really have to eat the same thing all week.

• Philippines
22 Dec 08
i cook for the day..leftovers are eaten by my kids and nanny for breakfast...they dont mind leftovers too so long as they like the food..they actually eat what's served...thank goodness for that...

• United States
22 Dec 08
Sometime I have to work many days straight,in that case I like to cook in advance. Otherwise,it's nice to have fresh meal every day.I'm not very picky and I don't have any problem with different sorts of meat so the choice is easy. I would say that soups can be stored for a long time,a couple of days won't spoil any dish. However,fish usually takes less than meat to go bad. The perfect long-term solution is dumplings(or at least the ones I make)-you can make a 100 of them and store them in the freezer for literally forever:)

• United States
23 Dec 08
Unfortunately I don't do this anymore, but thinking maybe I should again. Maybe cause I live alone now...but years ago when my mother was still alive I often made meals in large portions and then freeze them, then it would be like having my own frozen dinners which were purer and without preservatives...some of the foods I did in large batches...lasagna (then cut it into individual serving size), manaccotti, my Louisiana Meat Pies (chopped turkey meat can be substituted for beef)..gosh the list is endless...LOL.

• China
23 Dec 08
the topic is a serious problem. i am advice you cooking per meal. it will be good for you health. and you can choice what you like ,do you agree with me. you cooking per meal ,you can eat the hot meal in the cool day that is a happy things.

• United States
23 Dec 08
Good for you! I think it's a great idea to cook meals in advance! There are a lot of things you can cook and freeze! I would suggest buying a bunch of those cheep tupperware/plastic containers... to seperate the portions and freeze them so they're ready to go when you need them. We often freeze soups... chili, chicken noodle, vegetable stew, potato, cheese, etc. Lasagna and cassaroles also freeze well. I think cooking for the week is a great way to save time, money, and ensure you will be eating healthy!

• India
23 Dec 08
Hi we cook on a meal basis.we dont cook the food for whole of the week.we prepare the food ,freshly.but we do make pickles using spices,salt and chilli powder ,which stay for a one year time.the taste of the pickle get enhanced as the days increases.we also freshly prepare meals which is hygenic and healthy. bye!!!!!!!!!!

• United States
22 Dec 08
I'm hoping that you mean that you will freeze your meals for the week. Foods should not be left in the refrigerator for more than a couple of days. Most foods freeze fairly well. I know that potatoes do not freeze well at all. They get very grainy and mushy. As far as taste goes, you may have to experiment a bit. Not all things taste that great after re-heating.

• Canada
24 Dec 08
My husband absolutely loves to cook, so he tends to cook something different for every meal. It's true that we sometimes have leftovers that we will enjoy the next day, but if he can, he prefers to try something different with every meal. Tonight he's making us a pot roast with mashed potatoes.