I wanted to let my friends know who good Daisy May is doing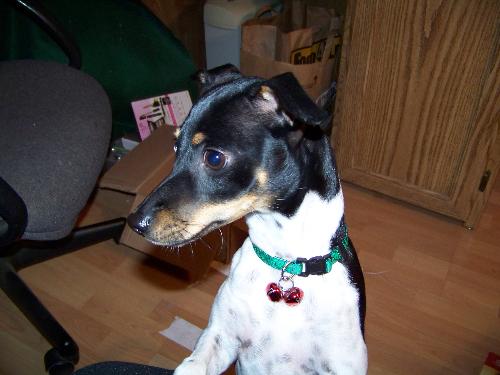 United States
December 22, 2008 12:09pm CST
I've had Daisy May for about a month now and when I got her she had no manners and some of my friends may remember. She was so insecure and bit a friend of mine when she came into the house, and she had to be on my lap every second of the day. Well a month later she has manners and she is sleeping in her basket beside me on the floor. She does not bite people any more when they come into the house. She loves company. She was chasing the cats now she loves her sister, Sammy and Abagail. In fact Abagail has taken up residence in Daisy's kennel and Daisy will crawl over the top of Abagail and get in the kennel. Daisy and Petie will run up and down the hallway and wrestle and have such a great time now instead of fighting like they did at fist. Daisy is fitting into our home quite nicely. I will tell you I did buy a training collar that has a mild shock and beep on it. She loves to wear her "necklace" When she gets to excited and will not stop barking and will not listen to me, I just beep the collar and she stops what she is doing and calms right down. I will tell you I did give her a mild shock a few times which I hated but I did not know what else to do to stop her in her tracks. She was not listening to me and she was starting to bite me and was getting aggressive towards me. I had to take drastic measures. I knew she was just trying to show her dominance over me and was insecure. I got control of her and now she is a wonderful dog. My sister and friends tried to convince me to get rid of Daisy. You see I am the third owner she has had in 6 months and I wanted to try to train her, I wanted to give her a chance knowing she was just an insecure puppy of 6 months of age. Now she is one of my little lover girls who has fit into my family quite nicely and would be missed by all if something happened to her.
8 responses

• United States
23 Dec 08
OMG
, so nice to hear a
happy
story to warm my heart for Christmas. I was worried that this little lady would win out on losing another home. I am soooo proud of you for sticking it out & teaching her you're the Alpha Dog in your house!!!

Now that you've got her attention, the rest should be easy!!!


Please keep us posted!!!

• United States
23 Dec 08
How are you my friend? I hope you are great. Daisy was not so good this afternoon. I try to keep the dinning room chairs pushed in so she does not climb up on the table. I caught her with her front feet on the table, and back feet on one of the chairs, she was eating the butter on the table. I had to speak sternly to her. I did not think fast enough to peep her caller. She ran over by my friend and tried to hid between her legs. The butter had nice teeth marks in it. I blame myself for leaving the butter out and not pushing the chain in, I also need to teach Daisy better.

• United States
23 Dec 08
We never think of our cats taking our food. I am sorry you had to find something else for dinner. Wow I would not have thought you would have had such a fight from your kitty over the turkey. Yes the butter got thrown in the trash, the teeth marks where kind of cute in the cube of butter, it was a new cube also. She is a keeper at least and has turned out to be such a lover.

• United States
23 Dec 08
I didn't have to find something else for dinner. It was a HUGE leg & he stole the top piece & didn't even disturb what was under it. I couldn't believe he was fighting that hard either He's my feisty little guy yet he is learning that I ALWAYS win!!! Now I just never walk off & leave food to tempt him. I usually have hot chocolate in the morning to warm me up & wake me up. He tries to steal it as I'm putting it in the microwave. I have thumped his nose so many times that when I c*ock my finger he closes his eyes & ducks.

Your little girl will learn & I swear they know you've rescued them & are giving them a good home. They show their appreciation by
sharing a ton of LOVE!!!




• United States
23 Dec 08
Aww--I'm glad to hear Daisy May is settling down and getting used to her new home..real glad things are working out. I think she was just going through a real hard adjustment period and maybe what upset her more was the fact that she had so many "homes" prior to yours. Give Daisy May a hug for me.

• United States
26 Dec 08
Daisy is doing so well. We had all the family here for dinner about 30 people and she did really well. She had problems when my sister in-laws dog wanted to eat her food. Then today when my sister in-law came back with the dog and I went to pick up Daisy's food she was eating it. I just picked up the food and no fuss from Daisy she let me have the dish no problems. She has come a long way I was so proud of her. She is now curled up in her basket looking so pretty in her new coat. I hope you and your gang had a great Christmas.

• United States
26 Dec 08
Aww--you'll have to take pics of Daisy May in her new coat...is this a different one that she only just got as a present??

• United States
26 Dec 08
Yes my daughter got her a new sweater for Christmas. She is so pretty. My children are so generous with their parents. My son and his girlfriend bought me a new computer for Christmas. This one is working fine but slow and makes a lot of noise. It is old so my son got me a new one. yayayaya.

• Philippines
27 Dec 08
That is so sad... having that many owners at such a young age... that explains her initial behavior... good thing you did not give her away... or else that will make her more aggressive and insecure... dogs are like us humans... they tend to feel insecure when the feel that they are not wanted...

• United States
27 Dec 08
She is curled up under a blanket in her basket. She is so sweet and loving but a handful. I am so glad she is my baby.

• United Kingdom
22 Dec 08
Hi Sweetie I am so glad that she has settled down now I find that People are to fast saying Get rid, they do not realize that it is like teaching a child just harder if they have had a bad time in Life, People told me same with Gissi get rid he will never settle well he proved them all wrong lol Gissi said to tell Daisy Santa will defiantly be coming to see her Hugs to you and to all the Babies

• United States
23 Dec 08
Hi Gabby, I hope you have a great time at your children's home for Christmas. Daisy and Petie will be getting a stocking for from Santa but do not tell them. Today Daisy was sleeping in her basket and I put a hand towel over the top of her. I got up to use the restroom. Daisy got up to follow up and the towel was draped over her back like a horse blanket. She did not mind that at all, what a silly girl.

• United States
22 Dec 08
The picture of Daisy May is just adorable. I really like her little Christmas bells! I am glad you have her trained now. It is very hard when first getting an animal to get them trained. Sounds as if the collar worked wonders. I am happy to hear that. I want an outside dog so badly. We need one that will be a good protector for our ducks and chickens. I am glad you got Daisy straightened out!

• United States
23 Dec 08
Thank you for your kind words. Daisy is still a work in progress but she is doing so much better. I do love her. She is so cute she climbs up on and puts her front paws on my left should and lies her head on my should also. I say she gives me a hug. Today while sitting on the couch with my sister in-law she was running from me and giving me a hug then to my sister in-law and them back to me. She was like a little two year old. What a sweet puppy.

• New Zealand
22 Dec 08
You have obviously put a lot of work into Daisy May and it is paying off. Good for you my friend. HUGZ from Kitten1954

• United States
23 Dec 08
She is such a love bug I am glad I did not give up on her.

• New Zealand
24 Dec 08

Hey there I forgot to sign out in case you where wondering why kitten1954 put it under my name as kitten1954 did not relise I had not signed out

Arohnui Love loveyoohbaby xoxo

• United States
26 Dec 08
Thanks I was so confused. Hope your Holiday was great.


• United States
27 Dec 08
I am so glad to hear that Daisy May is being such a good girl now. I am getting Shilo a training collar in January cause she has some issues that need correcting now while she is still young she will be a year old in january but her behaviors are new ones so we are going to nip them in the bud. since she is a big girl at 80+ pounds we need more than just a stern voice lol. For the most part she is a good girl but I don't want the bad behavior to continue.

• United States
28 Dec 08
The training collar I got was from PetCo on line. It has the peep mode and the shock mode. I like that better than just the shock mode. the collar part is water proof and good up to 100 feet. For little dogs it was $89. I feel it was worth the money. There training collars that just spray a citrus stuff in their face I did not know how that would work. Good luck with Shilo I am sure you are doing the best job you know how.

• United States
27 Dec 08
Glad you were able to turn Daisy May's disposition around and to give her a loving home.