Do you have a cat that is a klutz?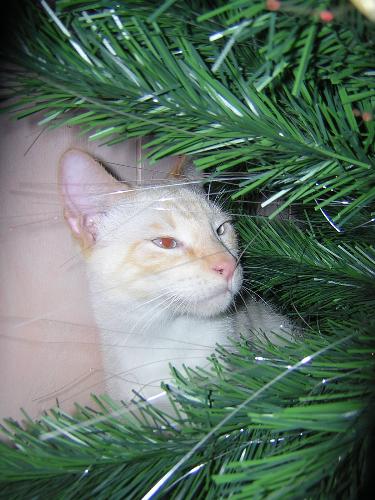 United States
4 responses


• United States
23 Dec 08
That kitten has to be a relative of one of my previous Siamese, Merlin. He was a true definition of Klutz!!! Merlin loved to climb trees. He was a great climber and could make it to the tippy top of the trees--the big problem for him was coming down. He could start down pretty well, but somewhere along the line his claws would let go and he would come hurtling down "free falling" to the ground. He never was hurt, and he would get up and do that famous cat thing of looking around to see if anyone saw what happened and then he would walk away nonchalant as anything. Have a wonderful holiday season, and thank you so much for responding to my discussions.

• United States
24 Dec 08
We had a cat we placed for adoption last year (07 now) and she was a huge, long haired flame point cat. Most of the time she was the very image of a lady, but when she got the "weirds" she would rickoshay around the house and pity the items that got in her way! She was big enough to knock stuff over that would stand up to most anything else!

• United States
24 Dec 08
Oh yes...my cat Missy is the biggest klutz out of all 13 of my babies. She loves to lay on top of our TV, and I swear if she even bats an eyelash she manages to fall off of it...and usually ends up behind the darned thing. LOL! And when she tries to jump from the arm of the sofa to where her food dish is, she almost always manages to either slide off or totally miss it. I keep saying I'm going to put her food dish on the floor, but so far it hasn't made it there yet.

• United States
24 Dec 08
Murphy, the old lady of the group, used to sleep on the television but she kept falling off. She finally got tired of falling off the television and found a box she decided was safer! It is so much fun to hear about our cats (and dogs) that missed the grace line before they were born! I can just see the cat missing the arm of the sofa...or sliding off. It is kind of like the cartoon cats that run into a wall and melt down the wall onto the floor. We always visualize cats as being very graceful creatures, but when they are born a klutz they really are the most klutzy animals you can find.

• United States
23 Dec 08
Well, other than the typical sleeping on an edge and falling, I would say no, that job is the dog..

She has hit her head on more things than I can count..We open the car door and she runs right into it..Then the most funny one was the clothesline..The clothesline is around the fence, so until you make that turn, you don't see the poles, and the dog went around, looking at me and then right when she got to the pole, her nose
Smacked
flush to the pole..I thought she would be hurt, but she just kept on going like nothing happened..I think German Shepherds have a much stronger skin and pain threshold, because I have yet heard her yelped in any of her banging her head or even flinching..

• United States
23 Dec 08
I think that its the "German" part of the dog. I have the three mini Dachshunds that will trip over the door sill, run full tilt into the sliding glass door, fall off the couch etc. Monica got stepped on by Abby, the Pitt/Lab mix that I am taking care of for my sister. Monica let out a yelp, turned and bit Abby in the ankle and raced for the couch. Monica wasn't hurt and Abby was so surprised that she got bit. The other thing about dogs and cats, when they have a dumb accident they will look around to see if anyone saw it and then if there was someone they will keep going like they planned to do it! We have always had dogs that were some sort of klutz. They too would trip over a pencil line drawn on the floor. That's a big part of why we love them so much more! One more fun story...this one is about Kitty, the Rottweiler. She passed away about 5 years ago, but this is from her "puppyhood". Mom and I decided that both of our Rottweiler puppies needed something more than rawhide chew bones to chew on, so we bought them "Kongs". Rocky (Kitty's brother) didn't much care for it, but Kitty loved her kong. Unfortunately it would be left in the middle of the floor and I wouldn't always see it and would step on it and go rolling across the living room. Of course I would say dirty words and toss the thing in the dog's toy basket. One day we were sitting in the living room when Kitty came walking across in front of us. She actually stepped on the kong herself, and she got pitched across the room. She let out a yelp of surprise but after that she NEVER left that kong in the middle of the room where someone could step on it. Have a wonderful holiday season, and thank you so much for responding.


• United States
23 Dec 08
Last Friday I was in the kitchen making myself some tea when Khuay came streaking through like a rocket. He jumped onto my sewing table, to the top of the television then intended to land on top of the refrigerator, but he didn't quite make it...I think his brakes failed

!! He landed on his side, slid against the wall, and banked off the wall and off the end of the refrigerator. He did manage to grab the top door edge, and dangled there for a couple of seconds before he came crashing down on his hind end...no, unlike people say he didn't and doesn't always land on his feet. I tried hard not to laugh but it didn't work. He gave me a disgusted look and took off. Khuay is also the cat that continually falls out of my bed. All of my cats have been good learners about not falling out of bed, but not Khuay. Fortunately I have my sister's dog right now and since Abby sleeps on the floor it kind of cushions Khuay's fall. You have to love such a sweet face, and that he loves so hard back! It's kind of sad yet funny that he is such a klutz. The one fortunate thing is that he can relax so totally that there isn't too much worry about his getting hurt when he falls. I thought that this would be a fun discussion for a time when we are tired from all the shopping and stress of the holidays. I glanced at some of the responses and got some very good giggles! Thanks for your response.