Who Could Do A Thing Like That?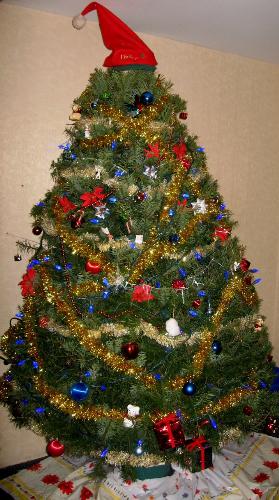 Canada
December 23, 2008 8:47am CST
We have a Communal Christmas Tree. Each time someone in our community passes by, they are welcome to help decorate our tree. Each of us has added our own Christmas touch since lat week end and the tree looks wonderful! This past Sunday, it appears that someone, stole particular decorations, mostly the cuddly bear ornaments. Who could do a thing like that? It does take away from the tree a slight bit but it still looks beautiful. I just can not think of what type of person could do such a thing! It totally set some of us back, to the fact that especially this time of year, there are those passing by with such selfishness in their heart. Is this not appalling?
7 responses

• United States
23 Dec 08
Yes it is appalling. I don't know how some can do that but unfortunetly there are a few out there that are quick to ruin someone's fun or enjoyment in life. One year someone came into my parents driveway and took my mom's blow up toy soldier! It was about 6 or 8 feet tall and these people stole it! Mom really loved him and had him by the driveway because his hand was up like he was waving as people came up the driveway. Their next door neighbor put up a huge sign in their front yard saying "To the person who stole our beloved soldier, may God bless you!" Sad thing is, she never got it back.

• Canada
27 Jan 09
Gee. Sad is right. Sorry CatsandDogs. Thank you for your response.

• United States
23 Dec 08
That is horrible. It sounds like people do not have the christmas spirit in their hearts. I cannot understand what someone thinks they will gain by stealing a christmas ornament from a communal tree. They are only taking the pleasure from someone else who is viewing the tree.

I think that these people are very selfish. If they are not doing it for selfish reasons, maybe they thought it would be a practical joke. Either way, their actions are horrible.


• Canada
24 Dec 08
I agree and Thank You for your response. We have put on other decorations to make up for the ones lost. Thanks again.

• Romania
24 Dec 08
Hey there are a lot of poor people out there who would probably do such things. Maybe it was a poor kid or a poor man trying to make christmas a little bit brighter for one's child. Who knows, the important thing is not to let that deed affect your spirit.

• Canada
24 Dec 08
Indeed, and I believe it has not affected the spirit of us all around our communal Christmas Tree. I just think that someone must of needed them more than ud. Cheers and Merry Christmas. Thank you for your response.

• United States
24 Dec 08
I guess someone didn't want to buy their own ornaments.

No, seriously, that isn't right at any time of the year, but stealing during Christmas is just Grinch like. I hope you all can still keep the spirit of joy around you though. I think your communal Christmas tree idea is a wonderful one.

• Canada
24 Dec 08
Thank you I too believe that the tree was and is a terrific idea and that stealing ornaments is totally grinch like. I couldn't of said it any better! Oh our tree still looks fabulous. People are still adding decorations to this day. Merry Christmas and thank you for your response. Cheers.

• United States
23 Dec 08
It really stinks that someone would do that. As is my usual habit I am trying to think of a reason for it - like maybe they couldn't afford to get their own decorations or something, but you can make decorations by hand and that's free. I'm really sorry that happened but the tree is still VERY beautiful and although that one thing happened don't let it take away from the experience of what your church did. You still have a tree with a piece of each of you decorating it and out of all that one bad seed is nothing!

• Canada
23 Dec 08
Hi FayeSLongo, Thank you for your response. Oh we are not letting it hamper our festivities at all. The tree was donated by a member of our community, not a church but what a wonderful idea. Churches I read here at MyLot, often share similar kind gestures. It was a bit of a shock but none the less, our tree still stands proud. People are still adding more as each day goes by, getting closer to December 25th. Some of us have made some nice decorations that really lit the tree up. The tree is beautiful thank you and yes there is a piece of us all there, as a way to share our Christmas Spirit with each other. Thanks again for your post. Cheers.

• Australia
30 Dec 08
It is disgraceful to think there are people who would do that. The sad fact is that there are people like that, who have no conscience. Sad but true.

• Canada
27 Jan 09
I'll second that MsTickle. Sad but true. We had a fabulous Christmas time regardless. When we loose something or something is stolen, i always think, Well, i guess someone needed it more than I. Thank you for your response!

• United States
23 Dec 08

That was not a very nice thing to do. Remember that this time of year can bring a lot of generosity along with theft. You have to be careful in all aspects of the holiday. People get mugged, decorations get stolen and it really can set some people back as you say. I am glad you still have the tree and enjoy it as you can. Merry Christmas and peace to you.

• Canada
24 Dec 08
Like wise and same to you, Merry Christmas and best you you and yours this Holiday Season. We are all still enjoying our tree, indeed. Thank you for your response.