Christmas Cactus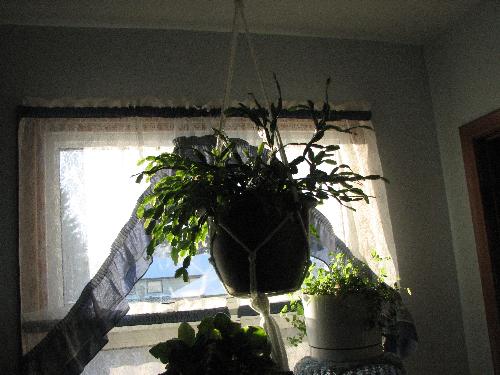 Canada
December 24, 2008 3:57am CST
I have always wanted a Christmas Cactus and this past summer a lady I know asked me if I knew of anyone who wanted one. I'm not good at taking photos, but the plant is growing like crazy but not going to bloom this year. Do they usually bloom every year? Is it because I transplanted it just this summer? Thank You in advance.
10 responses

• Canada
24 Dec 08
Apparently they are as difficult to grow as that blasted poinsettia. It needs a specific length of daylight and night to flower, and if you do not have that you have to artificially create it. I have never grown a Christmas cactus (don't dare, I kill almost every houseplant I had) but I have found a link that might help you. http://www.fernlea.com/xmas/cactinfo.htm By the way it says that the best time for it to flower is in January, so I guess Christmas might be out.

• Canada
28 Dec 08
Thank You very much for the link. I did find it interesting. Best regards in 2009.

• Canada
28 Dec 08
Same to you. I am terrible with houseplants, by the way so I had to look it up.

Thanks for the best response.

• United States
25 Dec 08
My Mom lives in northern Tucson Az. She has several christmas cctus in several colors. They bloom every year. I do not know her secret, but I will ask her and add to this later. I think she feeds them but I do not know what. I will ask tomorrow when I call her and if I can get online tomorrow I will let you know. I always wanted one too, I had some but when I had to move out of my home I do not know where they went. I have a friend thaat has some of my plants and some of them are here where I am staying but I do not know where my christmas cactus is. I just remembered that.

• Canada
25 Dec 08
Thank You for your kindness my friend. I would be pleased to know what your mom did.

• United States
24 Dec 08
The Fernlea page referenced above is interesting, but we got ours to blooms every year just by sticking it in the bottom of a dark closet and forgetting about it for a while every fall. To encourage blooming, the plant needs to be put in a place where it gets total darkness for at least 13 hours every night and it needs a period of "rest" so we didn't water it until we brought it out in preparation for the holidays. We don't have that plant any more because we no longer stay the whole year in one home, but when we did we kept Christmas Cactus plants and they always bloomed.

• United States
24 Dec 08
A friend of mine who grew hundreds of them successfully told me that you have to leave them outside until the first chill then bring them in. If you have kept it in the house all this time it may not realize that it is winter. When I had mine I put them in a window that didn't really block the cold so they could feel it and they bloomed every year. Just a word of caution. I said chill not frost. You would not want to let them stay out during freezing weather.

• United States
24 Dec 08
Yes they bloom every year.They are easy to grow and come in different flower colors. They are actually called zygocactus. I have had several over the years. You can actually break off pieces and they grow into new plants. The big problem is learning the right time to change the light and water so they will bloom for Christmas.

• United States
24 Dec 08
*waves* Hi grandma! I have a Christmas cactus that I have had for several years. It blooms around Thanksgiving and through the new year each year. I have been told that it is the change in temperature that causes them to bloom. I don't know if that is true or not. Perhaps you could try putting it in a cool place (basement, garage) for a few days and then bring it back to the warmth of the home. Worth a try!



• United States
24 Dec 08
I did have one once and it was a long time ago, if I can recall it is suppose to bloom every year. I think it is where you have it placed in your home makes a big difference. If I can recall again I think I had to put it in a place that had direct sunlight, near a window, not touching the window because then the glass will get cold and freeze it. I am going to do a little research on this.

• United States
27 Dec 08
I have had a couple of them, but never gotten them to bloom. My mom has them though, and hers bloom beautifully every year.