what was the most memorable part of your christmas day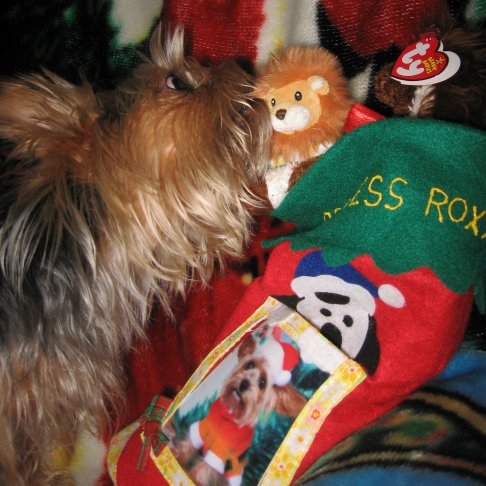 Canada
December 26, 2008 12:35pm CST
This Christmas I didn't manage to get home due to the extreme weather conditions. I did spend Christmas afternoon and evening with family that is in the immediate area and it was nice. We had a nice quiet and festive Christmas time. Dinner was awesome and we all opened our presents together which was nice for a change as well. I missed my other family members who were not in the area and who were not able to attend due to weather. We all managed to connect by telephone though. Good to check in on the Special day to send our extended Christmas wishes. The absolute best time of my Christmas day was first thing in the morning when my Baby woke up. She is at her best at that time. She was so thrilled when she got her stocking in bed and was surely surprised. New toys are her favorite. Roxy proceeded to open her stocking, playing a bit with each toy before continuing back to her stocking for more. After the first three toys, she laid to rest. Afterward, she continued to dig in for more. One small gift was wrapped and she did get it opened, after a shirt while. I think that is her very first present she has ever "unwrapped". She did well. It was a lot of fun to watch her get her toys from her stocking. It was very nice spending time with the family. It was a beautiful day out as well, the sun was shining upon the snow covered trees and ground. It was very special for me and my pup to enjoy the watching her have fun opening her stocking though. I hope all had a wonderful Christmas Day and enjoy the rest of the Christmas Holidays before ringing in the NEw Year. Cheers.
2 responses

• United States
26 Dec 08
My daughters reaction to one of her uncles gifts. He filled a gift bag with $25 one dollars bills. When she opened it and saw the money her eyes were as big as saucers. It was neat to see.

• Canada
26 Dec 08
Nice! that would of been fun to see. Great idea. I must try that sometime! Unfortunately we don't have one dollar bills anymore. Not even two dollar bills but none the less that would of been a blast to watch. Perhaps I could use five dollar bills and just omit a few.. Thank you for your post.

• United States
26 Dec 08
After all the cold weather we had had in the past few weeks we were blessed with weather around 70 degrees. It was nice and filled with sunshine. I guess the best thing was seeing family members I had not seen in a year. My parents, sister and brother-in-law and me had our own Christmas that morning, and in the afternoon we had traveled down to see my dad's family.

• Canada
26 Dec 08
There is nothing more special at Christmas Time than to celebrate with family. Nice. I am glad that the weather cooperated for you. The sun shone here as well but we have had so much snow my car is stuck and because the car is so low to the ground, I can not drive it because of all the snow. The ice is treacherous. I am hoping by Tuesday I can get mobile again. It is suppose to rain. Best to you and thank you for your response