Canine Christmas Gifts WHAT DID YOU GET YOURS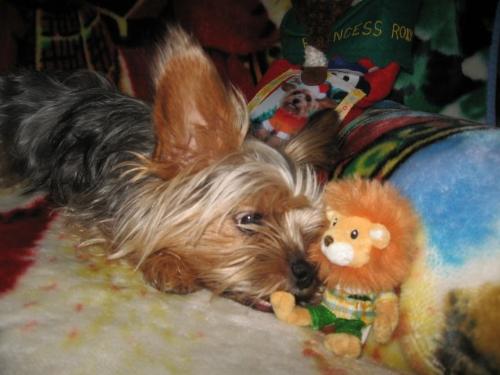 Canada
December 26, 2008 3:22pm CST
What gifts did your dog get for Christmas? What gift is your dogs favorite? Since my dog has almost more cloths than me, she did not get any cloths for Christmas but she did get toys. She loves her finger puppet lion, her Petey and Thunderbolt the Ty Baby Horse. Roxy also got Chicken Flavored Zuke's All Natural Treats. Lastly, Roxy got a Pup Raspberry Truffle Pir by Lazy Dog, manufactured in New York. She loved it and shared it with her cousin, the Russel Terrier, Jack.
4 responses

• United Kingdom
26 Dec 08
I got Secret a toy mouse for dogs and Magic a toy bear for dogs. They also got given a ball and a packet of yummy, for them, treats. I gave them dinner with four doggy biscuits to celebrate on Christmas Day. My dogs loved having the canine treats very much.

• Canada
27 Dec 08
Nice! Thank you for your response. My dog enjoyed her treats as well as the pup raspberry truffle pie after her turkey dinner. It was a great day. Roxy was so excited!

• United States
26 Dec 08
My little dog needed some new toys...especially stuffed toys that she is allowed to chew on since we won't let her chew on any of my granddaughter's stuffed animals.

She got a stuffed lamb, and a cow and one of those long stuffed whatever-they-are...and they all squeek! She also got some bacon flavored treats, some chew bones and some natural treats that she doesn't really like very much.


• Canada
27 Dec 08
OMG, yes! A skineez. My dog has the squirrel and she loves it, a lot. She didn't get it for Christmas but she does have one and loves it more than any other. Lol, yes I guess it is an acquired taste, the natural treats. I don't give my dog any red meat anything. She enjoys the natural treats. Either that or nothing. Sounds like your dog got a lil spoiled. Awesome. Thanks for your response!

• United States
27 Dec 08
We bought my puppy, Mojo, a new dog bed for Christmas. It's fleece, so it'll keep him nice and warm when he sleeps in his crate. Plus, it's padded for his comfort. Mojo will turn one year old on December 29, so he will also be getting some new stuff then.

• Canada
27 Dec 08
I would like to wish Mojo a Happy Birthday! My girl's birthday is May 02. I love the fleece dog bed. This is so special. I bet he loves it. A nice fuzzy soft blanket helps keep my Yorkie, Roy warm every night. She loves it. She has grown out of her bed and prefers to sleep with me in my big bed. That way she can stretch right out. The whole 12" of her. I know she ought to sleep in her own bed but right now she sleeps with me. She is warm too and likes to cuddle in the morning and I adore that along with her kisses to wake me up. Roxy is getting a canopy bed for her birthday, shhh. Best to you and Mojo. Thank you for your response.

• United States
26 Dec 08
I got both dogs in my family a package of treats. I also did the same for my 2 cats. One dog is a yorkie and the other is a chocolate lab. The yorkie always gets excited about christmas and he gets a gift bag filled with treats, that by christmas night has been tore to shreds by him to get to the treats. One of my cats also shreds his... It gets a little crazy around here..... LOL!


• Canada
27 Dec 08
Lol, that's beautiful! My brothers Russel Terrier does the same. He gets so excited that he starts opening other peoples presents. He sneaks out to the tree at Christmas eve, tip toeing even!! nd sniffs about. He can somehow pick out the presents that are for him. Is a real hoot. My Yorkie opened her first present this year and did well. The place is in tatters with paper and toys everywhere but she is happy.