palestina and israel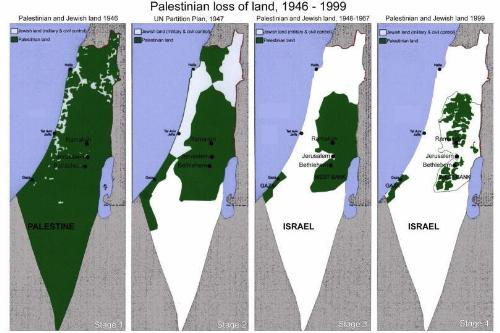 South Korea
December 29, 2008 1:05am CST
please see the link, i just want to share how things really happened there.. http://www.ccmep.org/delegations/maps/palestine.html what do you think? how many land that isreal want from palestina? they already take almost everything...
1 response

• India
29 Dec 08
Yes, I have full sympathy with the Palestinians. From whatever religious history I have read of West Asia, the entire area is a very holy land for the Jews, Christians and Muslims. That entire area really belongs to everybody, it's a joint heritage of the people who have emanated from there. So Israel is wrong in usurping more and more territories and forcing the Palestinians out of their own land. The best deal should be now for the UN to intervene and have direct control over that area so that Muslims and Jews and Christians can all partake of this holy land peacefully.

• South Korea
29 Dec 08
i really agreed with your opinion. we need the world to take actions. i mean, why can't they devide the land equally. i mean, why israel is taking more and more land? as they now already have the biggest part.. anyway, UN must take action, and why is america is not taking action? usually America would do something too..

• India
30 Dec 08
Well the USA is Israel's biggest ally, so you cant expect it to take action in favour of Palestine. I think most of the Muslim conflicts the world over if the Palestine issue could be resolved amicably.