its funny,but this ptc site paid me 0.15$ to my paypal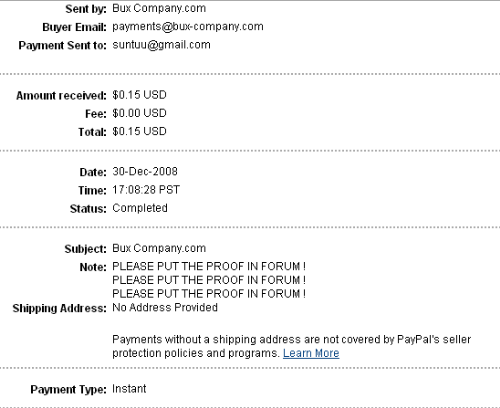 India
January 1, 2009 7:43am CST
guys this site is really funny. it has minimum payout of 0.15$ through paypal. it pays 0.01$ for each click and 0.005$ for referral click. but basically i don't want to tell you this. first i thought it would be a scam with such a low payout before registering there. but after registering there i was surprised to see 11 or 2 ads a day. then i thought lets experiment whether it will pay me or noy as 0.15$ is not too much. it took me around 8-10 days to reach 0.15$ and i requested payout and they really paid me,and that also in a day. very honest site it is. if you wanna join this then you can visit it in profile,its the first link in text there. here is its payment proof
7 responses


• Philippines
1 Jan 09
Congratulations my friend! Well, even though the amount is small, you are still lucky to have found a good paying site. As you know, many sites are cheaters and scam. So, just be thankful about that. Anyway, goodluck in your venture. Hope you will earn more money. Why not upgrade your account there? I will also check out the site. Thanks for sharing! Happy Lotting!


• India
2 Jan 09
I like to join in this site.I am adding you as a friend.

• China
2 Jan 09
I didn't know I could earning money on myLot until my foreign teacher told me about it . But I joined myLot just for communicating with the world ,not for money ,so I haven't download a paypal yet ....Earning money on myLot is a funny thing , ha ha

• United States
2 Jan 09
wow!! thanks for posting this info. i just viewed your profile and registered to the site. i hope they don't close down before i reach the checkout amount. i just earned 2cents. thanks.

• India
1 Jan 09
thats a great thing.. congrats man.. i would like to join you..