String or Strip quilt blocks

United States
January 1, 2009 8:58pm CST
I recived a huge box of sewing trims from the family after my good friend died. She and I had shared our love of sewing for a long time. Many of the trims are ribbons and braids that I would not normally use, and I wanted to use them in a project to remember my friend. I decided to use them in some string quilt blocks. I cut squares of backing or base fabric larger than I will want the finished block, that will allow me to trim it up nicely. I am attatching the ribbons with a decrotive stitch on my sewing machine and I plan on using the same shade of blue thread through-out. This is a picture of the first two blocks. As you can see there will be a couple of ways of arranging the blocks and I haven't decided on how I will do that yet. I think I will use the finished blocks in a curtain to cover some shelving where I store extra crafting materials.
2 responses


• United States
3 Jan 09
Thank you. I hope it turns out like it does in my 'minds eye', not everything I make does----------------some are-----------best hidden or destroyed!

• United States
2 Jan 09
The way you describe it sounds very nice, but the picture is MIA! I'd love to see what you've got so far, so I figured I'd be the first responder so that you can repost! Silly mylot, huh?

• United States
2 Jan 09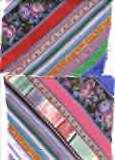 Thanks Cowgirl. It took me a bit, that was because I didn't real ALL the directions. My fault.