Birthday Cake - Too Much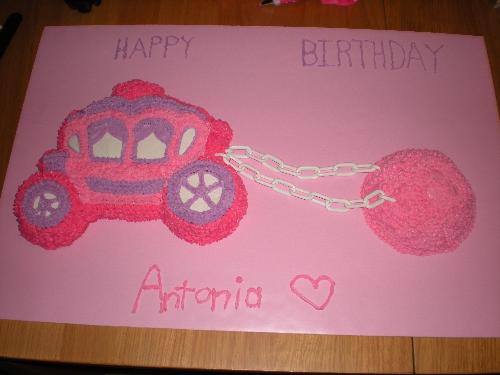 United States
January 4, 2009 7:04pm CST
My daughter had her 5th birthday party this weekend. My ex-husband thinks that I went overboard and that me making this cake was just as bad as the parents that spend thousands of dollars on a birthday party (see picture below). It is my family tradition to have a custom made birthday cake on a kids birthday. Do you think I went overboard. My daughter loves princesses and it was a bowling party so it seems appropriate to me. What do you think?
4 responses

• United States
5 Jan 09
What I think is....is that EX- Mr. Bytemi is a jackass!! MY question is...why do you even let his opinions concern you? You KNOW he's an idiot!! He's an EX for a reason!! LOL I think the cake turned out GREAT! Happy birthday to the "Ten Pin Princess" !!! LOL

• United States
5 Jan 09
Wow!! I love Dexter shoes...all their stuff is great. How cool is THAT?!


• Canada
5 Jan 09
i think there are bigger problems in this world then arguing about a cake. i think the cake is beautiful and if i could afford a nice cake i'd do it as well. these are the little things she will remember. she won't even remember toys as much as the special cake made especially for her. i say it's worth it

• United States
5 Jan 09
That is the thing, the cake didn't cost us anything other than, the cake mix, powdered sugar, milk and dye, thats it. I have all the pans and tips and stuff, they were hand me downs from my grandmother. The cake was cheaper than going to Giant and buying one.

• Canada
5 Jan 09
i think he has a jelousy problem then, he might think your trying to outdo him. you did a good job on the cake

• United Kingdom
5 Jan 09
Your ex-husbands probably jealous because he's too lazy to do anything special for your daughters birthday. (Just an assumption...). Seriously. If its your tradition, you bake her a cake! Even if its not, you bake her a cake anyway! It means alot to people to have a hand made object from someone you love / that loves you. Your ex-husband probably feels like your little girl with love you more then him. Which is his problem, not yours. Let him say what he wants, but at the end of the day, tell him to put his own effort into things and stop complaining about yours. Good luck, and beautiful cake by the way :)

• United States
5 Jan 09
GREAT comment! And yes, knowing Bytemi's situation, you are correct in your assumption! He's an IDIOT! I love that she makes these special cakes for her daughter. Heck, she offered to make MY daughter's cake for her birthday last year (well..Dec07) and I got up-to-the-minute camera phone pictures and texts to show the progress...and I really loved how much fun she was having with doing the cake. It was made from love and that showed through more than whatever it may have cost her to make it. That's all that mattered to us!