Do you use Mylot, as a source of news information?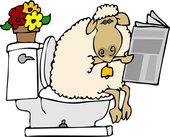 Canada
January 6, 2009 6:41pm CST
I have not been a member of Mylot for very long, however, since I began posting here daily I have never been so aware of the current news of the day. For example, I read a couple discussions about the death of John Travolta's son, and I thought what happened? I didn't hear about that! And so I went and looked it up. I'm not one to read newspapers or magazines and I rarely follow all of the celebrity gossip. However, since I've been a member of Mylot my head is full of all sorts of useless information, what about you, do you find that you hear a lot more about what is going on out there in the world today since you joined Mylot?
4 responses

• United States
7 Jan 09
yes. I do. There is usaully alot of news here and much more than I can take the time to look for. With so many different people on here everyone does a good job of coming up with new and exciting news. But I have to agree with you that my head is full of useless knowledge too.

• Holiday, Florida
24 Jan 09
yes i think mylot is a great way to learn about new info in the world news and with help for things you wonder about. there are so many knowledgable, intellegent people here.

• Australia
24 Jan 09
No I cannot say that I use myLot as a source of news because often the particular 'discussion' does not contain many facts and sometimes the link to where we can read the story in full is not posted. How I can say that I have seen a discussion and from there found the news item on my own, so in that sense it is a lead to what is in the news. In many ways I think that the discussion where we cab 'get our teeth' into it as much more informative. We can exchange opinions and advice with others and that alone can addd to our knowledge on a whole variety of subjects. While I tend to avoid the controversial discussions where some members can become vocal, shall we say, we can still have a very interesting exchange of opinions.

The other thing I have realised that there are many things I remember from when I was much younger and those incidents or lessons only come back to my mind when I am responding to certain discussions. The incidentg does not seem to affect my day to day life, but then I realise I do things in a certain way BECAUSE it was what I learnt as a child.


• Philippines
7 Jan 09
yes, very much. i even read a lot more news and stories and facts here on mylot that i have never heard or read before even in books or newspapers. its like more of an encyclopedia to me. haha. even much more, because encyclopedia doesn't have life stories and personal experiences of people. that's why i love reading discussions here on mylot, even though im not posting much i like reading a lot. anyway, happy mylotting!