Well, I broke down and did it

United States
January 7, 2009 5:03pm CST
I ordered a store bought birthday cake for my son's 9th Birthday this Saturday. I always make their cakes, but I saw this Wall-E cake at the grocery store that I know he would just love. He does not know about it yet. It is going to be a surprise too. My daughters birthday is in 2 weeks too. I hope I am not stuck ordering a cake for her now too. What would your kids want on their cake? Any special characters?
5 responses

• United States
8 Jan 09
I always make our cakes. I have made many different cakes over the years. A fire truck,a bathtub,rubber duck my favorite was an igloo with penguins for my grandson.I bet you willend buying a store cake or your daughter or she will be jealous.

• United States
7 Jan 09
My daughter is 4 and she talks just about every day what she wants her birthday party to be....but her birthday is not til July :). Right now she is stuck on Tinker Bell or Hannah Montana but I know it will change again soon. I really enjoy making my kid's cakes like you. But for characters like that you almost have to order it or buy a toy to place on the top of the cake. My biggest adventure so far was making a dinosaur shapped cake for my son's 1st birthday. It turned out really great. Good Luck and Happy Birthday to your 2 kiddos!!


• United States
8 Jan 09
I hope he enjoys the cake. It will be a good surprise. My daughter had a Little Mermaid cake. And a Finding Nemo cake. I buy her cakes. My sis in law is the baker. And knowing a little something about your daughter, she will notice! I believe a Dora figure on a home baked cake may fit the bill.



• United States
8 Jan 09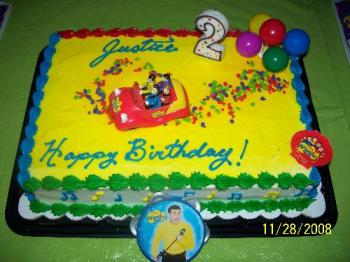 Oh, I know your son will love it! For my son's birthday in November I ordered him a Wiggles birthday cake. He loves the Wiggles. For my daughter last week, we just got a small puppy dog cake that I let her pick out.